Local News
Small plane makes an emergency landing and collides with car in McKinney
Nov 12, 2023
One person transported to the hospital
with minor injuries
McKinney, Texas (Nov. 11, 2023) – The McKinney Fire Department (MFD) responded to an Alert 3 call for a plane crash at 12:30 p.m. on Saturday. The flight originated in Midland and was trying to make an emergency landing at Aero Country Airport (255 Aero Country Rd, McKinney, TX 75071).
The pilot was unable to stop at the end of the runway and the plane went through a fence and onto Eastbound Virginia Parkway. It collided with a car that was driving by.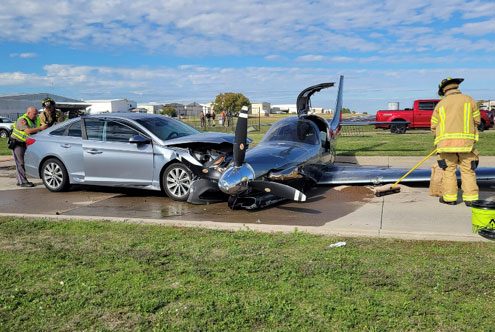 McKinney Fire Department Paramedics evaluated 3 patients at the scene. Two were on the plane and one was in the car. One person was transported to the hospital with minor injuries.
FAA investigators are headed to the scene to determine the cause of the crash. The roadway is expected to be closed for hours. Drivers are advised to avoid the area.