Local News
Upper Trinity recognized with Excellence in Management Award
Nov 9, 2023
Lewisville, Texas -- At its 2023 Executive Management Conference on October 23, the Association of Metropolitan Water Agencies (AMWA) presented Upper Trinity Regional Water District (UTRWD) with its top utility management award, the Gold Award for Exceptional Utility Performance. The award selection is based on the Attributes of Effectively Managed Utilities, which identify areas where utilities focus to achieve successful outcomes in operations, infrastructure, customer satisfaction, natural resource stewardship and financial
performance. Upper Trinity was one of four agencies to receive the Gold Award.
"As a regional utility, we consider excellence to be the standard in every element of Upper Trinity," stated Larry N. Patterson, Executive Director. "This award recognizes the valiant efforts and laudable accomplishments of our entire utility, including our operations, maintenance, engineering / construction, finance and administrative teams as well as Upper Trinity's Board of Directors."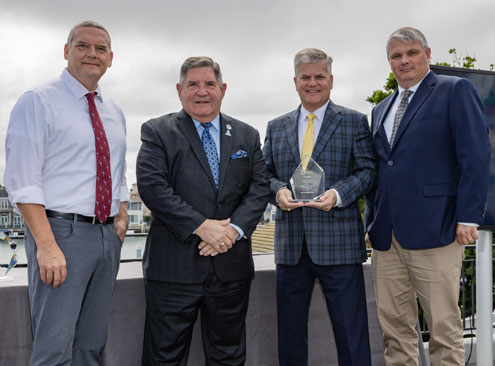 Presenting the Award is John Entsminger, AMWA President and General Manager of the Las Vegas Valley Water District (far left). Accepting the award on behalf of Upper Trinity is (from left to right) Larry N. Patterson, Executive Director, Jody Zabolio, Director of Operations & Water Resources, and Ben Hodges, Assistant Director of Operations.
"I want to extend my congratulations to the award winners for their exceptional dedication to providing their communities with the highest standard of safe and high-quality drinking water," said AMWA CEO Tom Dobbins, CAE. "Receiving an AMWA award represents the pinnacle of excellence in managing and operating drinking water utilities, while maintaining affordable service and supporting the environment through sustainable efforts."
About Upper Trinity
Upper Trinity is a regional water district created by the Texas Legislature in 1989 for the benefit of cities and utilities in the Denton County area. Its mandate is to develop regional plans for water services, and to provide both water and wastewater services on a wholesale basis to cities and utilities within its service area, including all of Denton County and portions of Dallas and Collin Counties. Upper Trinity is a leader in public education regarding water conservation and water quality protection, and regularly conducts programs concerning drought tolerant landscape techniques, landscape practices and more efficient water use. To learn more, please visit www.utrwd.com.
For more information, please contact Jason L. Pierce, Manager of Governmental Affairs & Communications at 972-219-1228.