Sports
Dale Coastal Rainforest Ranch: An outdoor wonderland In Belize
Nov 26, 2023
On a boat trip up the beautiful Belize River a couple of years ago, I vowed to return to this tropical paradise
and explore all it has to offer and this definitely included fishing and hunting opportunities. This past week, I chose to pass on a weeklong trip here because of duties at home but two of my great friends, Jeff Rice and Larry Weishuhn, made the short two-hour flight from Houston and both came back singing the praises of this beautiful Central American country. Thanks to a brand new destination that will open next year, we will all have the opportunity to experience what can best be described as an outdoor wonderland.
Well over a decade ago, I begin hunting the Dale River Ranch, situated downstream from the Possum Kingdom dam. The ranch was owned by Richard Dale Jr., a Dallas businessman and managed by my friend Randy Douglas. Through the years, Randy and I got to be great friends; I would set up a little tent camp on the banks of the Brazos and fish the river and ponds on the ranch and hunt deer and turkey.
There is no better place to bond friendships than the outdoors and Randy and I became lifelong friends during these hunting and fishing trips. To be honest, I was a bit sad to learn about the ranch selling a couple years ago but when Randy informed me he was setting up a new operation in Belize that encompassed thousands of acres of rainforest and coastal waters, I was elated!
This new outdoor destination was no longer close to home but easily accessed with a plane ticket to Belize. Here, deer and turkey hunting will be available for the diminutive little Brocket deer of the rainforest and tropical
whitetail. The beautiful ocellated turkey are numerous and attract turkey hunters from across the globe.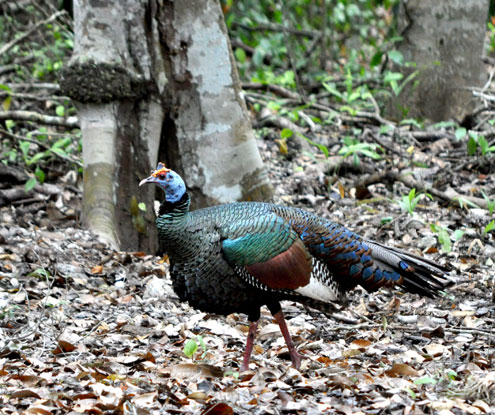 The ocellated turkey is one of many rare and beautiful wildlife species encountered in Belize. (photo by Jeff Rice)
Fishing opportunities will abound next summer when the camp opens. My buddies fished several lakes in the interior of the property as well as lagoons close to shore. Charter fishing will be available for bill fish such as marlin and sailfish but the shallow flats abound in tarpon, bonefish, snook and permit which provides some great easy to access fishing. All the interior lakes provide great fishing for a variety of freshwater species and the plan is to have jon boats situated on all these smaller waters.
Randy hopes to have the first stage of the lodge open by next summer which will become headquarters for the first clients. The camp will be all inclusive and include lodging, meals and transportation to and from fishing, rainforest excursions, etc. Expansion will be in progress and include a lodge and private rooms with all the conveniences of home. The property is covered with Mayan ruins, many of which have been largely unexplored. Randy and owner Richard Dale Jr. share a goal to leave things just as they are but facilitate walking trails and side by side tours through the rainforest so that guests can experience the rainforest.
The old saying, ďRome wasnít built in a dayĒ is surely true when setting up a great outdoor destination in the jungles in Central America. But during the past couple years, Randy tells me most of the many challenges have been overcome and itís time to begin building soon. I, for one, am looking forward to being one of the first in camp and fishing those lakes in the rainforest. Give me a 14-foot jon boat and an electric trolling motor and paddles and I will be right at home! Iíve read about the abundant Mayan catfish and cichlid. I can envision a small cook fire, cast iron skillet and sizzling catfish under a giant
celba or kapto tree in the middle of the rainforest!
To learn more about The Dale Coastal Rainforest Ranch, visit www.daleranchbelize.com
BOWSEASON OFF TO A HOT START Reports of sweltering sets in bow stands and battles with swarms of
hungry mosquitoes was the norm last weekend for the opener of bow season but predictions for cooler weather this weekend should get more hunters out and about. With an abundant acorn crop in many areas, deer that have been frequenting feeders will probably be spending more time under the oaks, feeding on one of their favorite foods. If your trail cameras have not been showing as much deer movement as normal around feeding stations, do a bit of scouting and locate oaks that are dropping acorns nearby, look for sign on the ground of broken acorn caps. Squirrels will also be hitting acorns hard but squirrels donít normally damage the acorn cap when feeding, they remove the acorn and drop the cap. Look for deer tracks and bits of broken acorn caps on the ground. I like to move into a likely spot during mid day when the deer are bedded and quietly place a ladder stand within bow range of these areas that evidence a lot of deer sign. Warm weather deer hunting always presents the challenge of taking care of the meat. I like to first tag my deer and then skin and quarter it as quickly as possible. If Iím hunting a remote area, I usually have an ice check filled with ice and another for the quarters of the deer after butchering.
I will be joining my friend Larry Weishuhn this weekend for a deer hunt in Southeast Oklahoma at the Choctaw Hunting Lodge. The Choctaw Nation owns about 45,000 acres of pristine whitetail habitat near Daisy, Oklahoma, about an hour from Paris, Texas. Larry will be hunting for black bear a couple days before I arrive and hopefully he will have harvested a big bruin and be ready to hunt deer with me!
Mark your calendar to attend the ďGET OUTDOORS EXPOĒ event Saturday October 14 at The County Armory in Greenville, Texas. Hours are from 10 am. until 4 pm. I will be on hand to visit with folks and hopefully, will have signed copies of our brand new book, Campfire Talk, written by Larry Weishuhn and I. For more information, contact Sparkee 903-259-2503.
Contact outdoors writer Luke Clayton by email through his website www.catfishradio.org