Lifestyles
Autumn in Bonham Bike Rally Oct. 7
Oct 6, 2023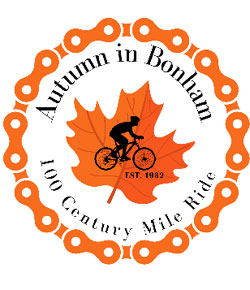 Bonham, Texas -- It is with great excitement that The Bonham Area Chamber of Commerce announces the return of Autumn in Bonham Bike Rally on October 7. Established in 1982, the last ride took place in 2019. Thanks to the efforts of original event organizers, the Bike Rally committee, the Fannin county Amateur Radio Club, local county police chiefs and sponsors, the ride is back on track.

The ride holds the distinction of being a Century Mile ride and features 4 paved routes, and 2 gravel routes, all within Fannin County. Participants of past rides will recognize familiar landmarks, along the 22, 40, 70 & 100 mile paved routes and also enjoy riding by Bois D'Arc Lake, a new county attraction. Riders that prefer gravel have a 45 mile and a 68 mile option.

New this year is the addition of downtown activities centered around the Fannin County Courthouse Square, which was undergoing renovation during the last ride in 2019. Local talent will take the stage at 10:00 a.m., followed by local favorites, Cassandra Hashert at 12:00 p.m. and The Buzz Andrews Band at 1:00 p.m. Vendors and food trucks will be set up around the square including Neighbors Place Winery, J&S BBQ, Sew Art by Brandy, TxDot, Fannin County Crisis Center, The Spotted Mug and American Patriot Garage.

To register as a rider, go to https://www.bikereg.com/autumn-in-bonham.

For volunteer, sponsorship & vendor information go to www.bonhamchamber.com or contact the Bonham Area Chamber of Commerce at 903-583-4811 or info@bonhamchamber.com.