Lifestyles
Autumn in Bonham Bike Rally set Oct. 7
Oct 5, 2023
Bonham, Texas -- Established in 1982, the Bonham Area Chamber of Commerce is excited to bring back Autumn in Bonham Bike Rally!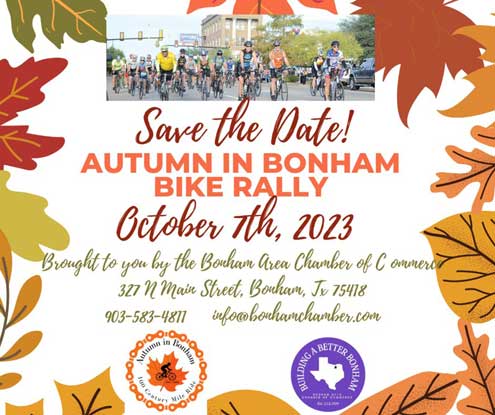 Autumn in Bonham Bike Rally is set for Saturday, October 7, 2023, from 8:00 a.m. until 3:00 p.m.
Registration for riders can be found at https://www.bikereg.com/events/Gravel-Grinder/Texas.
Vendors may contact the Chamber office at 903-583-4811 for vendor reservations. Vendor fee is waived for Chamber Members, $50 for non-members.