School News
Ector ISD Ag Mechanics students place at Houston Ag Mechanics Show
Mar 22, 2023
Ector, Texas -- For years, Ector ISD has entered projects in the local Fannin County Fair Agricultural Mechanics Show and had much success with their projects, however, they had not showcased their talents at any of the major livestock shows that are held outside of Fannin County.
Recently, four ag mechanic students under the leadership of ag teacher, Casey Phillips, came up with a project, gathered the materials and worked tirelessly to complete the project they could be proud of and entered it at the Houston Ag Mechanics Show on March 18. The project received a blue ribbon and later placed sixth in their division!
The project these students built is a welding trailer that facilitates all the equipment needed to do the job, including the welder.
When asked why they chose the project, Christian Laymance, a sophomore at Ector ISD, stated, "I plan to put my welding talents to good use and make some money. I asked Mr. Phillips and some of my classmates if they would help me design and build a welding trailer so I could go to work."
Christian's parents were very supportive and donated the metal used to build the trailer.
The other ag mechanics students involved in the build, Hunter Koger, Jayson Smith, and Bree Kresley were happy to help be a part of the project that would not only help a fellow classmate in his business endeavors but also represent Ector ISD at their first major ag mechanics show.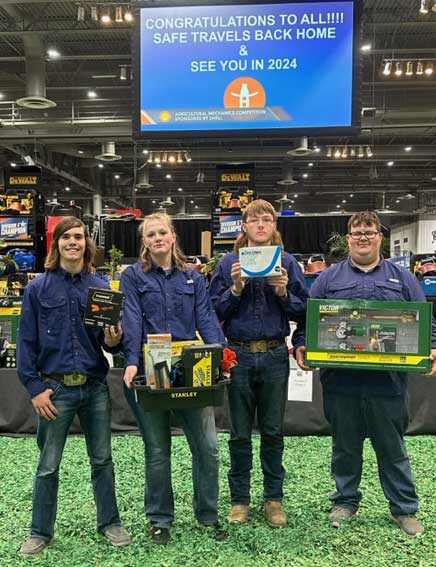 The students were awarded a Victor Torch Set and a toolbox containing many shop necessities they can put to good use on future projects including a socket set, safety glasses, wrenches, ear plugs, and screwdrivers.