Local News
Sherman Celtic Festival & Highland Games March 25-26
Mar 26, 2023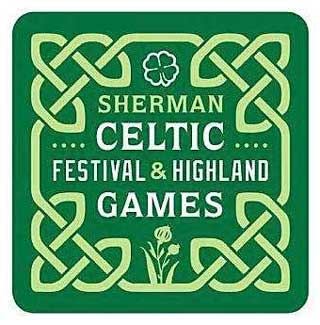 Sherman, Texas -- Sherman Celtic Festival & Highland Games is set for Saturday and Sunday with an impressive line-up of live music, Highland Games, Scottish and Irish Dance, plus great festival food and much more!

The event will be held March 26 and March 27 at Pecan Grove Park - West in Sherman, Texas.

The Sherman Celtic Festival is always filled with numerous and unique cultural exhibitions, demonstrations, educational and immersive opportunities. If you have ever wanted to know more about your Celtic roots, the Celtic Village and Cultural Area of our festival is a can't miss visit for you. We have 40+ Scottish clans in attendance this year with a number of Irish representatives as well as the Choctaw Nation.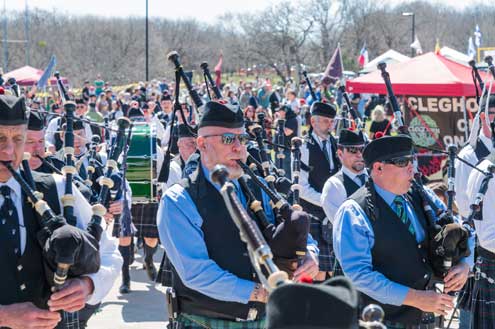 The Sherman Celtic Festival & Highland Games is the brainchild of Sherman Police Officer, Rob Ballew who heads up the Celtic Fest Planning Committee. The Festival is officially organized by the Texoma Society of CELTS, a 501c3 organization based in Sherman and is made possible by the support of generous sponsors. A portion of the proceeds are given to Scottish Rite Children's Hospital each year.
So many ways for people to participate - bring your dog and be part of the dog parade, enter the shortbread or scones contests, be part of the Highland Games (there's a women's division too), pet the Highland cow and her calf, enjoy great food and drink, listen to outstanding live music and bagpipes, immerse yourself in Celtic culture, find your Clan - fun for the whole family!
The festival fills the entirety of Pecan Grove West Park.
Kids Activities!
The Sherman Celtic Festival includes a variety of family-friendly events! Bring your kids and watch them enjoy the sights and sounds of ancient Scotland as well! There will be a variety of activities including the park's playground equipment, dog parades, tug-of-war, foam sword fights, face painting and more!
Viking Demonstrations
Step back in time and visit the Viking village! Dressed in era accurate clothing, Watch and learn how they make everything they need to live each day.
But don't be surprised to see a Viking battle randomly happen throughout the day.​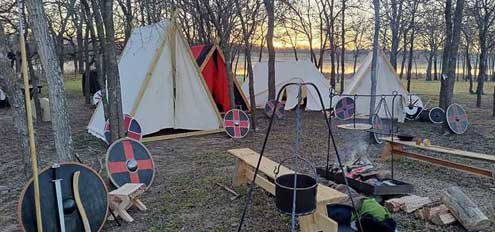 This exhibit is presented by Black Wolf Vikings! Check out their Facebook page to learn more here!
Music
Bands taking the stage for the Sherman Celtic Festival include Cleghorn, Plunk Murray, Slugger's Rule, River Driver, Beyond the Pale, and Hugh Morrison.
Cleghorn is America's Celtic Rock Band!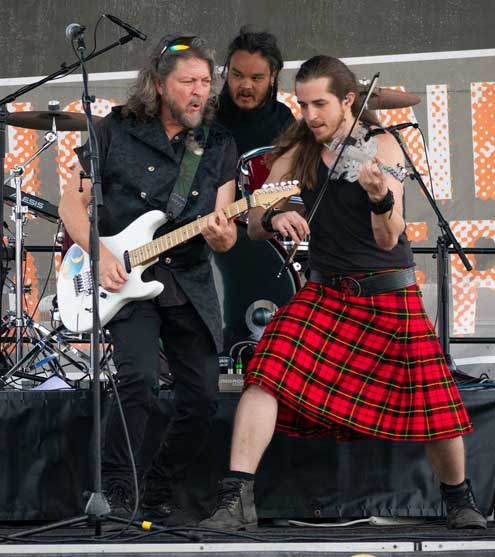 Featuring the father and son team of John Cleghorn and Dylan Cleghorn, Cleghorn music mixes original folk/rock songwriting with high energy Celtic fiddle, screaming guitar leads, and rockin' bagpipe tunes.
Plunk Murray brings an exciting mix of traditional and modern, Celtic tunes, along with a number of "not-so-Celtic" tunes.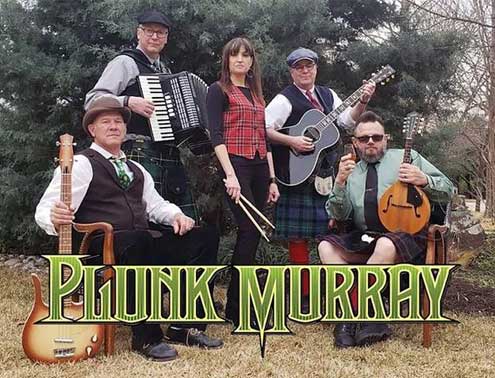 Their high-energy shows have made them a favorite at festivals, concerts, private parties, and pubs across Texas and Oklahoma. They've been affectionately described as a drinking club with a Celtic music problem.
Slugger's Rule built their own brand of Celtic and folk music around the campfire. It started off getting together around a fire with songs, stories, and a healthy amount of booze.
Over time, instruments were added and other influences surfaced, such as new songs from different countries and even a hint of bluegrass in their harmonies. However, their performances today stay rooted to the original fire pit where they would drink, entertain, sing, and discuss the history and meaning of the music that they love.
River Driver is a dynamic acoustic three-piece band that showcases the incredible fiddling skills of Aidan Flannagan, accompanied by the talented Michael Logan on guitar and the versatile Jarod Schmitt on drums.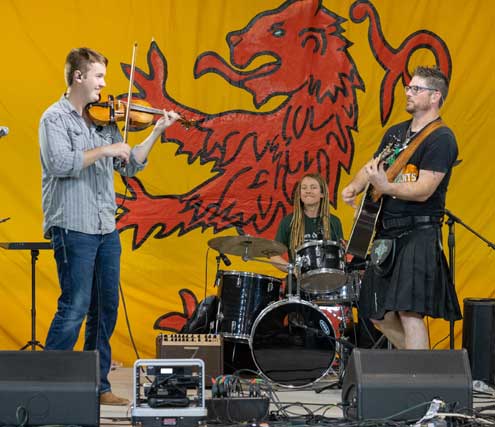 Drawing from their diverse musical backgrounds, River Driver creates a unique sound that blends elements of Celtic, rock, and bluegrass music.
Beyond The Pale is an exciting quartet featuring fiddle, flute, accordion, guitar, hammered dulcimer, mandolins, concertina, bodhran and a variety of vocal styles and harmonies. Beyond The Pale moves seamlessly from traditional Irish music to lively versions of contemporary music with a Celtic twist! Beyond The Pale has been a favorite at concert and festivals since 2001, has recorded over 12 CD's amongst the band's members, and have bee active in Irish music education in the Dallas area for many years.
Scottish born musician Hugh Morrison now calls Texas home. Groomed in the celtic/folk traditions of his native Highlands of Scotland, Morrison writes songs that tell tales from his homeland and also from Texas and Lousiana, in particular New Orleans where he has spent a good number of years recently. His main gig is lead singer with Murder the Stout who tour and perform at many festivals across the USA. Morrison also tours Europe often, either as a guest musician or solo act.
In addition, a Pipe & Drum Competition will be brought to you courtesy of Douglass Distributing.
Solo and band bagpiping competitions will be held throughout both days of the festival free for all attendees to watch.
Highland Games
The first historical reference to Highland Games in Scotland was made during the time of King Malcolm III (1031 – 1093) when he summoned men to race up Craig Choinnich overlooking Braemar with the aim of finding the fastest runner in Scotland to be his royal messenger. They were also thought to have originally been events where the strongest and bravest soldiers in Scotland would be tested. These gatherings were not only about trials of strength. Musicians and dancers were encouraged to reveal their skill and talents and so be a great credit to the clan that they represented.
​These traditions of games, music, and dancing have continued today with festivals all over the world and have found their way into Grayson County!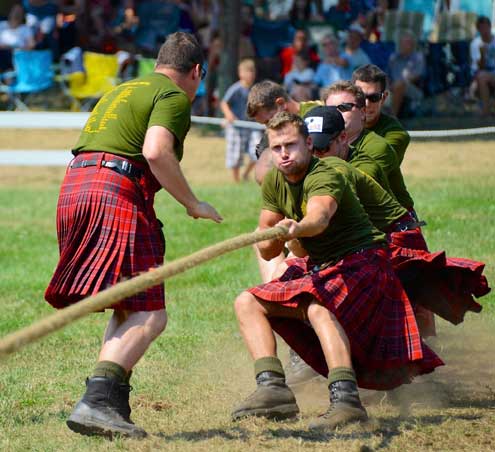 The Scottish Highland Games one of the most popular events at Sherman Celtic Festival. It pays homage to centuries-old Scottish athletic games and includes the hammer throw, caber toss, sheaf toss, and stone put.
Come watch some of Texas' finest athletes try their hardest to win the gold!
Red Hair Competition
Were you blessed with fiery red hair? Come show it off to the festival! This competition has several categories for men and women. Stop by the Headquarters Tent for information on this contest. Join in the fun!
Kilts, Kilts, and more Kilts!
Sherman Celtic Festival is a certified Kilt-friendly event! If you've never worn one then you'd be surprised at how incredibly comfy and... breezy they are! Everyone loves a kilt- from our Viking friends of the past or the future warriors from another galaxy!
​If you don't have one, don't worry, we have WONDERFUL authentic, traditional kilt vendors at our festival that can custom fit one just for you.
Shortbread Competition​
The origin of shortbread goes back to somewhere around the 12th century when it was originally made from leftover bread-making dough that was left to dry out and harden. The more refined version of shortbread as we know it today is attributed to Scotland, particularly to Mary, Queen of Scots in the 16th century, who was said to love it.​
In our competition, we have two categories, Traditional and Gourmet. Traditional is exactly that….traditional. Just 3 or 4 ingredients combined to make cookies that are nothing more than the buttery, crumbly goodness. Gourmet Shortbread is a little more adventurous. If you want to add fruit, chocolate, glazes or other non-traditional add-ins, then your recipe should compete in the Gourmet category.
Scones Competition
Scones are thought to have originated in Scotland in the early 1500s, being first referenced in writing a Scottish poet in 1513. Around 1840, scones became an essential part of the fashionable afternoon tea. ​
In our competition, we have two categories, Traditional and Gourmet. Traditional is exactly that….traditional. It is a simple but slightly sweet, buttery, crumbly, bread type…. thing, often paired with jam. Gourmet Scones are a little more adventurous, sometimes even savory. If you want to add fruit, chocolate, glazes or other non-traditional add-ins like cheeses, meats, veggies, or nuts then your recipe should compete in the Gourmet category.
March 25 and March 26 - Rain or Shine
Pecan Grove Park West - Sherman TX
Adults $10.00 - Children 6yr-12yr $5.00 - presales / family package discounts / multi-day discounts available online.
Pipe & Drum Bands, Live Stage Bands, Highland Games, Strong Man Games, Highland Dancers, Sheep Herding, Highland Cows, Dog Parades, Viking Village, Choctaw Nation, Fencing Demos, Shortbread Contest, Scones Contest, Tug of War Comps, Blacksmithing, Learn to Speak Gaelic Classes, Vendors, Food Trucks, Raffle, Clan Village to learn about your ancestry.
It's a GREAT day of family-friendly fun!!! Go to our website to check us out and get your tickets early!! shermancelticfest.com