Lifestyles
Grapevine's 31st Annual New Vintage Wine + Gallery Trail & Art Show set April 15
Apr 15, 2023
Grapevine, Texas -- Cheers! Toast the new release wines at Grapevine's 31st Annual New Vintage Wine + Gallery Trail & Art Show presented by Park Place Lexus and Land Rover Grapevine April 15! From crisp whites to smooth reds, you'll find something to tempt your palate at New Vintage.
The day begins at 10:30 a.m. at Peace Plaza with the Blessing of the Vines. This centuries-old European tradition features a blessing performed by a priest to ensure a bountiful harvest. From 11:00 a.m. – 6:00 p.m., New Vintage passport holders can stroll along Historic Main Street and sample wines and light bites at Grapevine's winery tasting rooms.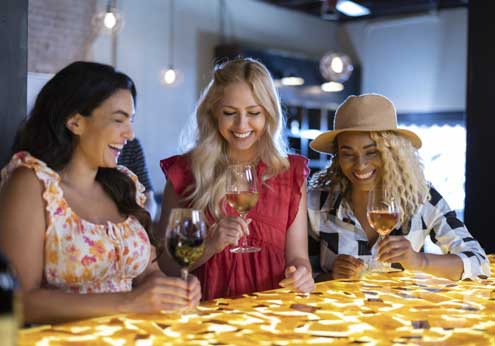 photo courtesy Grapevine CVB
As you walk along Historic Main Street, see beautiful sculptures that commemorate Grapevine's history. Visit Grapevine's art galleries to see colorful and unique works of art and experience the all-new Fine Art Show on Peace Plaza. Tickets for the New Vintage Wine + Gallery Trail & Art Show are $55 per person.
Be among the first to attend the all-new Art Patron Party at Peace Plaza on Friday, April 14. From 6:30 p.m. – 9:30 p.m., this interactive event features stunning paintings and sculptures by internationally-recognized artists from across the North Texas Region. Patrons will have the opportunity to talk with the artists and purchase their favorite works during a beautiful spring night in Historic Downtown Grapevine. Patrons will enjoy wine, craft brew, floating appetizers, live jazz music and more. Patron tickets are $75 per person.
The New Vintage Wine + Gallery Trail is one of Grapevine's most popular annual events. For more information or to purchase tickets, visit GrapevineTexasUSA.com.
Grapevine is the ideal destination for a weekend getaway. For information on hotels, restaurants, shopping and more things to do in Grapevine, visit GrapevineTexasUSA.com.