School News
Ector ISD granted money for Ector Cares Program
Mar 2, 2023
Ector, Texas -- Ector ISD recently received a generous donation from the M W & Fair Miller Foundation, Inc. This donation will greatly impact under-privileged students who depend on Ector ISD for not just providing an education, but who rely on the district for nutritional sustenance during the school week as well.
For the school year 2021-2022, over 50% of the student body of Ector ISD came from economically disadvantaged households; many of which were unsure of where their next meal would come from when they left the school campus. Because of the M W & Fair Miller Foundation, Ector ISD will be implementing an Ector Cares Program. This program has been designed as a weekend backpack program that discreetly makes meals available for children to take home over the weekend. The bags will consist of simple meal and snack making contents such as bread, chips, lunch meat, etc. that are easily managed.
"Ector ISD is extremely blessed with the implementation of this program" said Superintendent Jennifer Morris. "Our district already goes the extra mile to take care of our students in and out of the classroom. This is just one more way to ensure our student needs are met."
The Ector Cares Program will be available to Ector ISD students throughout the remainder of this school year and into next year as the 4 Day Instructional Week Calendar is implemented.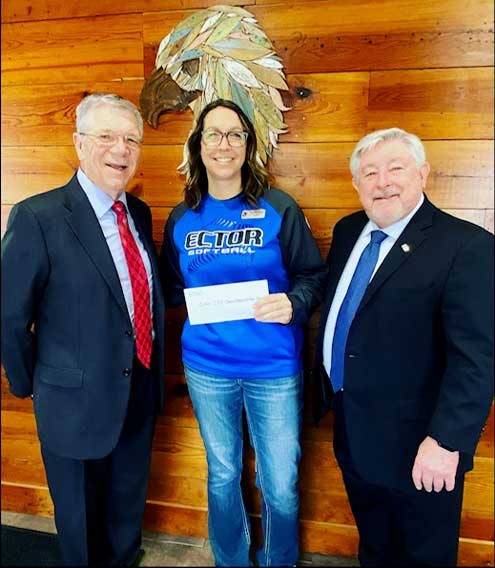 Pictured here are Ector ISD Superintendent, Jennifer Morris along with Dr. Jerry Hopkins (right) and Dr. Dana Sisk, Representatives of the M W & Fair Miller Foundation, Inc.