Lifestyles
Fannin County Amateur Radio Club to start new free class
Feb 20, 2023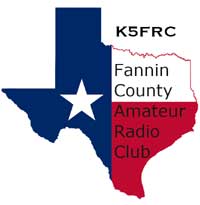 Fannin County, Texas -- The Fannin County Amateur Radio Club will be starting a new class to help you study to pass your amateur radio Technician License exam. This class is offered at no cost, and we will be utilizing Zoom to host our class sessions virtually. What this means is that you can join us from the comfort of your own home.

Our new class will be offered twice a week, starting on Monday, February 20. Classes will meet from 7:00 p.m. to 9:00 p.m. on Mondays and Thursdays each week through the end of March. As a bonus, the club is authorized to administer testing for all amateur license classes, as we have a number of certified Volunteer Examiners available, and we can schedule a testing session whenever you feel ready.

Each class is designed to help you focus on specific topics or lessons, designed to help even the most inexperienced person be better prepared. Additionally, at the end of each class, you have the opportunity to take a practice exam, which uses the same questions and answer pool that the actual license tests utilized, giving you more exposure on what questions might be asked, and their answers.

We also understand that you might not be able to attend every class session, so we are prepared to help you address any missed classes and information.

We do need you to sign up, if you are interested in pursuing an amateur radio license. Please send us a message Fannin County Amateur Radio Club Facebook page or to Secretary Sarah Richardson at sarah.sue.richardson@gmail.com (with Technician class in the subject line) with your name, email address, and the best phone number to reach you at. We will be sending out the class information, including the Zoom meeting invitations, to all who register.