Sports
The frozen North
Jan 30, 2023
With the recent visit of Old Man Winter in our area, I began thinking about what it would be like to spend the winter up in the far north. I would greatly enjoy spending time, up around the Northwest Territories in northern Saskatchewan during the dead or winter, or at least I think I would. It would be an awesome experience to walk outside a remote cabin at night and have a bird's eye view of the northern lights. I've listened to enough Johnny Horton songs to long to see the northern lights 'running wild' in the land of the midnight sun.
Summer is short in the north country, the ice melt occurring in late May and by October, things begin to freeze again. Right now there is 3 foot of ice covering the lakes that I so much love fishing during the summer months.
My good friend, Bryce Liddell has spent years as a bush pilot and Yukon hunting guide. He later bought a fishing camp on an island on the very remote Iskawatikan Lake where I've fished in the past and plan to make a return trip this June when the ice melts and the mighty Rapid River drainage begins pushing water every so slowly through the lake. In a few weeks, Bryce will once again make the long solo runs with snowmobile and sled to haul fuel to his remote camp. During the summer, fuel is delivered by floatplane which is the only reasonable way in and out of this wilderness country during the warm weather months. But the cost of these deliveries by air is pricey and every supply that he can pull in by sled is a big savings.
The trip from LaRonge is about fifty miles through what I am sure most of you would deem as true wilderness country. Bryce makes several back-to-back trips to his wilderness camp in late February and March. Imagine running a snow mobile fifty miles into the wilderness in the winter! I asked Bryce if he uses a GPS and he said he had the route memorized.
"What happens if you break down?" I asked him.
He replied that he knew every trapper's cabin along the route and always carried emergency provisions. When he's flying into his camp, he seldom uses GPS, he has the rivers, lakes and other landmarks memorized.
Other than the occasional fur trapper, or hardy Chipewyan or Cree that still wishes to live the old way, this frozen wonderland is left mostly to the bear, wolves, moose, lynx and wolverine for much of the year. My friend Bryce has a pilot buddy that flies his family into his fishing lodge to spend Christmas each year. I can only imagine what that country is like during the winter. A few hardy souls drill through the ice and catch giant lake trout, northern pike and walleye.
Ice fishing is something I have always wanted to do but I've always opted to fish this North Country during the summer months. Days are short this far north, even in the summer and there is only two or three hours of total darkness. Last summer while fishing for Lake Trout and Pike in northwest Saskatchewan we encountered the first 'cold front' while out on the water and felt the sting of sleet pellets on our cheeks. With winter temperatures regularly thirty or even forty below zero, I think it might be best if I continue with my summer trips up north and day dream about what it would be like there in the winter!
I've had a few of the native First Nation's people as guides, and spending time with them is an education. One gentleman that was in his early seventies was still working summers as a fishing guide. He cooked us lunch one day the 'Indian way' by placing a whole fish on a green stick slanted toward a small cook fire. Luckily we had a bottle of lemon juice to add a bit of flavor to our 'fish on a stick, as well as a skillet of fried walleye. But I'm sure the fish cooked Indian style would have been very tasty if that was all we had to eat and we were on a long canoe paddle trip back to our lodge. I notice our guide also ate the walleye!
It's common during the summer months to see black bear and the occasional moose. Last summer while fishing at Tazin Lake, we spotted a big bull moose feeding out in water about 2 feet deep. Our guide shut the boat's motor off several hundred yards upwind and the wind pushed us within close camera range of the big bull. I've often thought of that majestic, hardy animal. How they survive the brutal winters that far north is a mystery to me.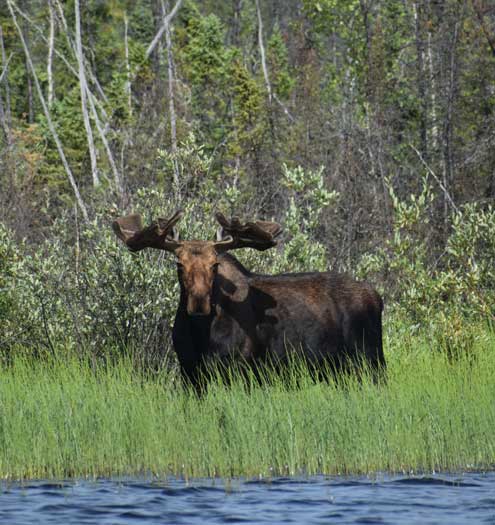 You never know what you will encounter when spending time in the far north. Luke photographed this bull moose last summer while fishing at Tazin Lake in northwest Saskatchewan. (photo by Luke Clayton)
Last summer we were fishing the side of a long point and as we rounded the corner, we spotted a lynx that appeared to be out swimming in the lake. Upon spotting us, he made a mad dash for shore and cover in the nearby forest. We were able to get some good video footage and still photos of him as he headed for the timber. Later back at camp, the locals said that sighting a lynx was rare indeed, often a once in a lifetime experience. I will never forget the sight of that big cat with fur dripping, running for cover. The term 'fluid motion' comes to mind describing the way he seemed to glide along the ground.
During the summer spruce tip tea is a favorite with the locals. The little green tips of the emerging buds make a very tasty tea when boiled a couple minutes. The native peoples there and in the US used this tea as a 'spring tonic'. I later learned the tea his very high in vitamin C.
Yes, a trip up into the Canadian wilds is something everyone that loves the outdoors should experience once in their life. But I warn you, the far north will keep calling you back. One trip will not be enough!
If you might want to learn more about traveling to Saskatchewan to fish a remote camp, send me an email, I promise to point you in the right direction. Lukeclayton1950@gmail.com www.catfishradio.org