Lifestyles
Joseph's Coat, a program of The Storehouse of Collin County, seeks donations of warm children's clothing, athletic shoes and new underwear
Feb 14, 2023
Inflation as well as the clothing closet's expansion of the number of distribution days per week has increased the demand for both clothing donations and volunteers
Plano, Texas – Joseph's Coat, a program of The Storehouse of Collin County that provides clothing at no cost, is asking the community for donations, specifically warm children's clothing, athletic shoes, and new underwear. Last fall, Joseph's Coat began taking clothing appointments on Mondays and Wednesdays as well as Fridays. Inflation along with additional service days has impacted the number of items available in the clothing closet while increasing the need for volunteers.
"We live in challenging times, and when families are struggling to pay bills and put food on the table, purchasing new clothing is not something up for discussion," said Christi Ferrell, director, Joseph's Coat. "Since its founding in 2009, Joseph's Coat depends on the generous donations of our community, which enable us to serve our neighbors each week at no cost. With more cold weather expected, we are reaching out to the community to ask for warm clothing for children as our supply has been drained. Additionally, the need for athletic shoes and new underwear is ongoing."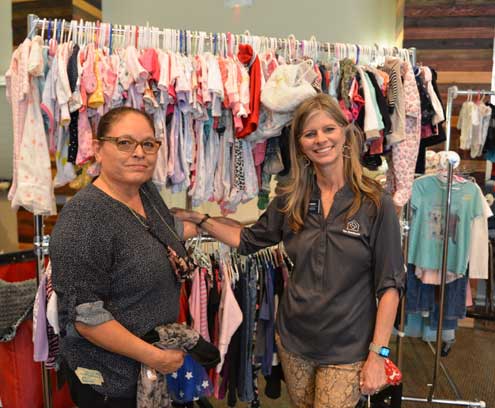 (L-R) Margarita Garcia and Christi Ferrell at work in Joseph's Coat.
In 2022 Joseph's Coat distributed 64,657 articles of clothing at no cost to 2,337 households. Joseph's Coat also provided 2,015 winter coats to adults and children. The clothing closet is now open on Mondays, Wednesdays, and Fridays by appointment only. Since expanding appointment options from one to three days last fall, Joseph's Coat's output of clothing items has increased from approximately 4,000 articles a month to 8,000.
"Joseph's Coat has seen a lot of changes in the past couple of years," added Candace Winslow, executive director, The Storehouse of Collin County. "When the pandemic struck in March 2020, we closed Joseph's Coat as a health precaution. In August of that year, we began looking at reopening with an appointment-only model to eliminate long lines of neighbors waiting to select clothing. As the demand for clothing began to rise, the calendar was booked 60 days in advance. When St. Andrew Methodist provided us with dedicated space in 2022, we created a model of service to serve neighbors three days a week, which has led to a need for more clothing donations and volunteers. We are beyond grateful to St. Andrew for this dedicated space, which enables us to serve more neighbors, and to the community for their ongoing generous donations."
Joseph's Coat was founded in 2009 shortly after Sharon Hasley, wife of the late Rev. Robert Hasley, founded the food pantry. As the pantry grew, Hasley noticed during that first winter that many families did not have warm attire. Seeing the need, she ran home and grabbed coats out of her closet to hand out to the neighbors, and Joseph's Coat was established as the second program of The Storehouse. Today, Joseph's Coat's dedicated 3,100-square-foot space accommodates up to 6,000 articles of clothing on any given service day.
Clothing items may be dropped off in the donation bin, in the north parking lot of The Storehouse of Collin County, at 1401 Mira Vista in Plano. Volunteers may sign up at https://www.thestorehousecc.org/volunteer, and anyone needing clothing may make an appointment at https://www.thestorehousecc.org/josephs-coat. A form of ID is required at the appointment time (driver's license, passport, photo ID), and neighbors may visit once every two months. For an overview of Joseph's Coat, watch this video https://vimeo.com/743542178
"Joseph's Coat helps my family with needs that can't be met otherwise," said Olga V. "We run out of things to wear with our kids that are growing. This means everything to us. This is such a blessing."
The Storehouse of Collin County provides short-term assistance and long-term transformation to residents of Collin County in need through the Seven Loaves Food Pantry, Joseph's Coat Clothing Closet, Project Hope Neighbor Care, and The Academy Education Program. The nonprofit was founded in 2009 by St. Andrew Methodist Church under the name of Seven Loaves Community, which provided food pantry staples and grew over the years to meet a variety of needs. Over 3,000 families on average access Seven Loaves each month. The Storehouse provides clothing at no cost through Joseph's Coat as well as counseling and case management through Project Hope. The Academy provides free and reduced-cost classes to assist with language, job, or life skills development. Visit www.thestorehousecc.org. The Storehouse EIN: 27-1883333