Entertainment
Fannin County Centennial Monument returned to courthouse grounds
Jan 20, 2023
Fannin County, Texas -- Last week the Fannin County Centennial Monument was returned to courthouse grounds.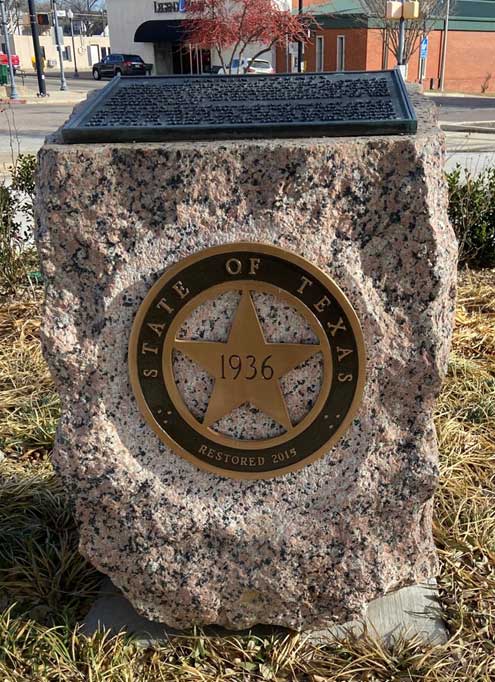 Visitors to the Fannin County Courthouse grounds may wonder what this monument represents. It is actually a very interesting story.
In 1936 the State of Texas celebrated the Texas Centennial. The celebration was a huge event. While events were held throughout the state, the main exposition was held in Dallas. The Texas Legislature and the US Congress each contributed $3 million for the event, and fifty beautiful buildings were erected or used at the State Fair venue in Dallas for the celebration. Over six million people visited the exposition in Dallas.
As part of the Centennial Celebration, the Texas State Highway Department erected markers in every county of the state. In 1936 the Fannin County marker was placed about three miles east of Bonham in what was then a highway rest stop on Highway 5. The rest stop is no longer maintained by TXDOT and the marker had been vandalized. (The original plaque on top of the monument was replaced in 1976.)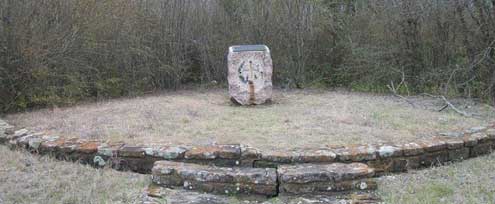 In June 2015 the Fannin County Historical Commission asked the Fannin County Commissioners for permission to move the monument to the courthouse grounds, and this permission was granted. A new medallion was ordered to replace the old medallion which had been stolen.
The movement of the monument presented problems because of its placement and size. In April 2016 Commissioner Dean Lackey and his crew moved the monument to the northwest corner of the courthouse grounds, and the Fannin County Historical Commission arranged for the cleaning of the monument and the installation of the new medallion.
On June 2, 2016, the monument was re-dedicated at a ceremony on the northwest side of the courthouse grounds.
Then the monument was removed from the grounds for the renovation of the courthouse. And last week Commissioner A. J. Self's crew returned the monument to the courthouse grounds, where it now resides on the northeast side. Hopefully its permanent resting place.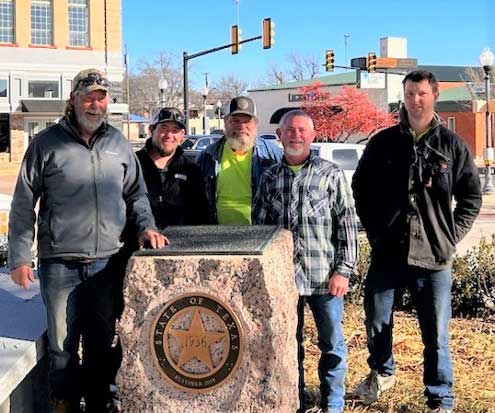 (L-R) Richard Owen, Pct. 2 Commissioner A.J. Self, Eddie Cox, Brandon Wallace, and Nathan Coyle
[Note: the statue of James Butler Bonham on the Courthouse grounds was also part of the Texas Centennial, but that is a different story.]