Local News
Fannin County Commissioners Court approves resolution celebrating City of Bonham's 175th Anniversary
Jan 25, 2023
Fannin County, Texas -- Fannin County Judge Newt Cunningham presided over a regular meeting of Fannin County Commissioners Court on Tuesday, January 24, 2023, with Pct. 1 Commissioner Edwina Lane, Pct. 2 Commissioner A.J. Self, Pct. 3 Commissioner Jerry Magness and Pct. 4 Commissioner Doug Kopf present.
The meeting opened with an invocation by Tammy Galloway, pastor of McKenzie United Methodist Church in Honey Grove, and Major James Manis (Ret.) led the pledges.
*****
Judge Cunningham introduced Bonham Mayor H. Compton in attendance.
*****
In public forum, Judge Cunningham read a thank you note he received from Bonham Public Library regarding a recent "generous donation."
*****
Fannin County Commissioners Court approved a resolution celebrating the City of Bonham's 175th Anniversary.
Proclamation
THE CITY OF BONHAM, TX Terquasquicentennial Celebration
WHEREAS,
February 2, 2023 marks the 175th anniversary of the City of Bonham; and
WHEREAS, Settlement began with the arrival in 1836 of Bailey Inglish from Butler County, Kentucky; and
WHEREAS, Bailey Inglish built Ft. Inglish in 1837, a blockhouse and stockade, on 1,250 acres of land located on Bois d'Arc Creek near timber and water supplies; and
WHEREAS, John P. Simpson came soon thereafter, and Inglish and Simpson donated the original townsite, known as Bois d'Arc, as an inducement to settlement; and Inglish secured the town's first post office, which served an area of several hundred miles, including what is now Collin and Grayson Counties; and
WHEREAS, when Bois d'Arc became the Fannin County seat on January 26, 1843, the county was extended in to the Panhandle and Greer County, Oklahoma Territory; that later became twenty Texas counties; and
WHEREAS, Bois d'Arc was renamed Bonham on February 26, 1844, in honor of James Butler Bonham who died at the Alamo. By the early 1840's, C.C. Alexander of Cumberland County, Kentucky, established a business house to supply Fort Worth and home seekers in northeastern Texas; and
WHEREAS, On February 2, 1848, Bonham was incorporated as a city; and
WHEREAS, special activities have been planned to celebrate the occasion of this anniversary throughout all of 2023; and
WHEREAS, it is fitting that we should join in the expression of our pride and appreciation for the many civic and economic benefits that our community has enjoyed over the past 175 years because of the growth and prosperity of our County Seat, The City of Bonham.
NOW, THEREFORE, we encourage all citizens of Fannin County, Texas to join us in celebrating The City of Bonham, Texas on the occasion of their Terquasquicentennial Celebration on February 2, 2023.
PROCLAIMED this 24th day of January, 2023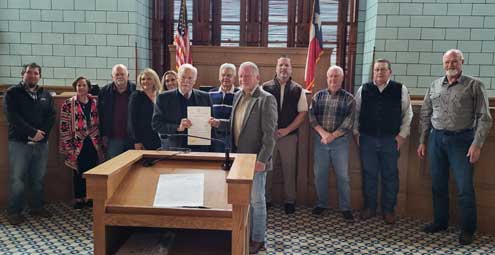 (L-R) A.J. Self, Pct 2 Commissioner; Edwina Lane, Pct. 1 Commissioner; Tom Thornton, Fannin County Historical Commission; Jenn Self, Bonham Tourism; Melissa Maxwell, Bonham Tourism; Newt Cunningham, Fannin County Judge; Glenn Taylor, BEDCo; H. Compton, Bonham Mayor; Sean Pate, Bonham City Manager; John Burnett, Bonham City Council; Jerry Magness, Pct. 3 Commissioner; and Doug Kopf, Pct. 4 Commissioner -photo by Lisa Loiselle
The City of Bonham is inviting the public to attend a City Celebration on Thursday, February 2, 2023, from 11:30 a.m. – 1:00 p.m. at Bonham City Hall located at 514 Chestnut Street to kick off Bonham's 175th Birthday Celebration.
*****
Fannin County Commissioners Court approved minutes from regular meetings on December 7, 2021, July 26, 2022 and August 16, 2022.
*****
Fannin County Commissioners Court discussed the possibility of landfills in Fannin County.
Judge Cunningham relayed information gleaned from a recent Texas Association of Counties (TAC) convention that highlighted the importance of having an ordinance on the books regulating landfills.
"If you do not have an ordinance, you don't have a say," Cunningham stated. "Let's be proactive. When it comes to wind farms and landfills, I would rather have them go someplace else."
"The last thing we want is a landfill on Hwy. 121 like the one in Melissa," added Commissioner Lane.
"We need an ordinance on junkyards, too," suggested Commissioner Magness.
*****
Fannin County Commissioners Court passed on an agenda item regarding a burn ban, however this subject is likely to addressed again next week.
*****
Fannin County Commissioners Court approved the purchase of a Case TV450B Skid Steer, Brush Grapple and a 5-Year/2000-hour warranty from ASCO for $63,100.00 after receiving $41,500.00 trade in for 2017 John Deere Skid Steer.
The court debated the pros and cons of precincts pooling equipment, as well as possible merits of the Unit Road System that designates one road supervisor to oversee the management of all county roads and bridges.
"I'm hearing people complain about the roads and we need to consider how we will address it," Judge Cunningham said.
*****
Fannin County Commissioners Court passed on an agenda item regarding setting up generic email addresses for each non-elected department.
*****
Fannin County Commissioners Court held a brief discussion regarding water issues.
"We still have water issues and I want as many advisements as I can get," Judge Cunningham remarked.
*****
Fannin County Commissioners Court held a discussion regarding road issues.
Donna Polser addressed the court and complimented Commissioner Kopf on his statement last week in commissioners court that taxpayers won't be seeing his precinct employees driving around in new vehicles.
Ms. Polser asked for the county budget to contain a specific line item for vehicles in order for taxpayers to better understand exactly what money goes for machinery and equipment. She asked commissioners to consider how many roads could be repaired for the cost of a new precinct pickup, or if those monies could be used to increase the pay of precinct crews.
Judge Cunningham replied that the county budget could be more granular in order to limit discretionary spending.
*****
Fannin County Commissioners Court adjourned into executive session at 10:35 a.m. to deliberate personnel matters regarding the appointment, employment, evaluation, reassignment, duties, discipline, or dismissal of a public officer or employee; or (2) to hear a complaint or charge against an officer or employee – regarding Development Services Position.
*****
Fannin County Commissioners Court reconvened in regular session and passed on taking any action regarding the personnel executive session.
*****