Local News
Fannin County Amateur Radio Club invites public to Winter Field Day Operations Jan. 28-29
Jan 29, 2023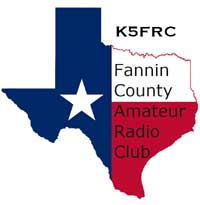 Fannin County, Texas -- Fannin County Amateur Radio Club (FCARC) is conducting our annual Winter Field Day Operations on January 28 & 29, 2023 at Lake Bonham Pavilion. We will also have our 2nd Annual Chili & Soup Cook-off Saturday evening!

The Winter Field Day event is held the last full-weekend of January. It is a chance to work the airwaves outside of typical operating environments. Winter Field Day also allows us to practice for all types of emergencies, where we are setting up and operating our radio equipment just like we would in those times.

Set will begin around noon Saturday, January 28; with on air contacts starting at 1300 (1:00pm). Winter Field Day will be operating for 24 hours, which allows us to practice both in daytime as well as during the night.

We invite everyone to stop by and check out the amateur radio world.You do not have to be a licensed amateur radio operator to come join us, and this is a great opportunity to better understand how easy and important amateur radio is. Fannin County Amateur Radio Club website is www.k5frc.org. For more information, contact President Mark Hetherington at markh11@aol.com.