Entertainment
Sam Rayburnís birthday party returns to the Sam Rayburn House
Jan 6, 2023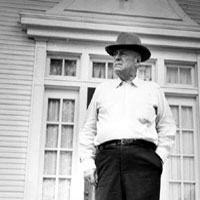 Bonham, Texas -- Sam Rayburn's birthday is right around the corner, and we want you to celebrate with us! Born January 6, 1882, in Roane County, Tennessee, Sam Rayburn was just 5 years old when he moved to Fannin County with his family. The Rayburn clan settled in Flag Springs, but later moved to Bonham, a place that was dear to Mr. Samís heart throughout his life.

Bonham was where he first saw Congressman Joseph Weldon Bailey speak, which led to his lifeís ambition: to enter politics and eventually become Speaker of the U.S. House of Representatives. And Bonham was where he and his brother Tom would build a home and farm for the Rayburn family.

The Sam Rayburn House invites you to join us at the Rayburn family farm on Saturday, January 7 to celebrate 141 years of Mr. Samís influence on Bonham, Texas, and the nation! Celebrate all things Sam Rayburn with first floor tours, birthday games and crafts, and, of course, birthday cake! Admission to Mr. Samís Birthday Party is free, and the festivities will run from 10:00 a.m. to 3:00 p.m.!
The Sam Rayburn House State Historic Site is located at 890 W. State Hwy 56 in Bonham. The site tells the real story of Sam Rayburn, one of the most powerful and influential politicians of the 20th century, in his authentic 1916 home. Preserved as a period time capsule, the two-story house contains all original Rayburn furnishings and housewares.
The Sam Rayburn House State Historic Site is one of 34 historic attractions operated by the Texas Historical Commission. For more information, visit: www.VisitSamRayburnHouse.com, e-mail sam-rayburn-house@thc.texas.gov, or call 903.583.5558.