Entertainment
Looking forward for Lake Ralph Hall
Dec 23, 2022
Fannin County, Texas -- Lake Ralph Hall is a special place --a natural place, a quiet place, a hospitable place-- both for people and for the environment, assuring a reliable water supply for generations to come.
Recent months have brought progress on new bridges and roads and considerable progress moving dirt and pouring concrete at the reservoir site. In addition, several other key Lake Ralph Hall projects have been moving forward behind the scenes.
Designs are now nearly finished for the pump station, and the Upper Trinity Regional Water District (Upper Trinity)is preparing to procure the stationís larger equipment including pumps, valves, and electrical gear. Archer Western, Upper Trinityís construction manager at risk for the pump station, will hire several construction companies to begin work on the project late next spring.
Similarly, designers are more than halfway finished on the 32-mile raw water pipeline needed to carry Lake Ralph Hall water to Upper Trinityís water system. Bids were recently received for the pipe and large valves, and Garney will select construction contractors in April to begin installing the pipeline next year.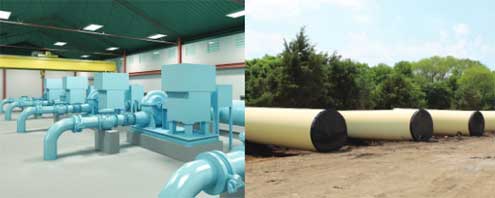 Rendering of the future pump station and type of pipe that will be used to create the Lake Ralph Hall pipeline.
Work also continues to prepare for development and environmental improvements around the lake. The Fannin County Commissionerís Court approved the lakeís Comprehensive Plan, which provides guidelines for land use around the lake. The plan will provide direction for the development of future zoning and regulations of the lakeís shoreline. The projectís mitigation contractor is also finalizing environmental improvement designs to mitigate impact.