School News
Southeastern joins ever-growing popularity of Esports teams
Dec 1, 2022
Durant, Okla. – Southeastern Oklahoma State University students have joined others across the country in participating in Esports competition.
Esports, short for electronic sports, is a form of competition using video games. It often takes the form of organized, multi-player competitions, between individuals or teams. These games can range from popular, team-oriented multiplayer online battle arenas (MOBAs), to single player competition, to virtual reconstructions of physical sports.
Although the SE team has been in existence for little more than a year, it has already achieved champion status, winning first place in the Oklahoma Association of Collegiate Esports (OACE) Collegiate Valorant Division in spring (beating Oklahoma City University in the finals) and fall 2022 (topping Southwestern Oklahoma). Southeastern also competes in the New England Collegiate Conference, a national league, as is the Collegiate Valorant Division.
Team members are Peyton Bearden, Braden Couch, Nicholas Ratgen, Zane Ritterhouse, Kelton Shriver, and Spencer Teel, while SE Assistant Director of Admissions Steven Harris serves as coach, and IT systems administrator Jason Stowell is coordinator.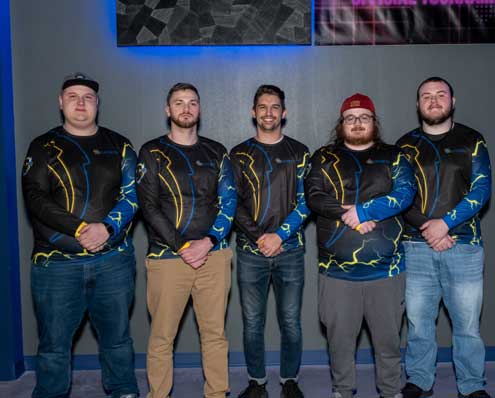 SE Esports team members are, left to right, Nickolas Ratgen, Braden Couch, coach Steven Harris, Spencer Teel, and Zane Ritterhouse. Not pictured, Peyton Bearden and Kelton Shriver.
"Esports and gaming in general is a huge market for jobs and careers,'' Harris said, "not just being a professional player, but in broadcasting, production, media, design, creation, business, and the list goes on. Any job or career that you would see in a traditional sport, it also exists in the esports realm, plus a few more. The gaming industry has been growing every year, with many colleges and high schools now having teams.''
The SE team is also excited about a new esports facility that is under construction in the Glen D. Johnson Student Union near the Magnolia Café that will be ready for use early next year. This area will be used not only by the SE esports team with the potential to host tournaments, but will serve the student body as well. The facility will have two Tournament/practice rooms and a lobby area with five PCs for the student body.
"This (facility) will give a large portion of our students a place to plug in,'' Harris said. "A very high percentage of Southeastern students game and having a facility and an organization to help accommodate these students is going to help drive involvement and activity. Making friends and uniting around something they already do will be of great value."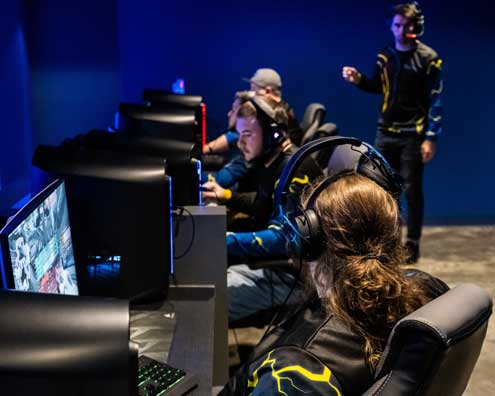 The SE Esports Team earned first place in the OACE competition held at Southwestern Oklahoma.