Front Page
9th Annual Holiday Wine Stroll & Taste of Bonham
Dec 2, 2022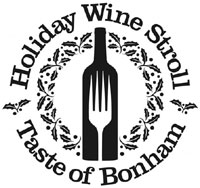 Bonham, Texas -- The 9th annual Holiday Wine Stroll & Taste of Bonham is scheduled for December 3, 2022 and promises to be the best yet! Join the stroll from 4:00-8:00 p.m. and enjoy an evening of shopping, wine sipping & tantalizing bites. This year's stroll features 15 stops welcoming 9 local wineries and 10 local eateries to tempt your taste buds and love of wine as you discover the treasures that our businesses on the square have to offer.

The stroll is designed to bring attention to local businesses around the square and to try the fares of local restaurants, eateries & caterers. Each participant will receive a wine glass, wine glass lanyard, shopping bag and map upon check-in at the Bonham Area Chamber of Commerce/Visitor's Center. Christmas music will serenade strollers who are encouraged to stop at every location to enjoy their specialties for the evening. Maps that have been initialed at every stop will be entered into a drawing for prizes donated by local businesses and wineries.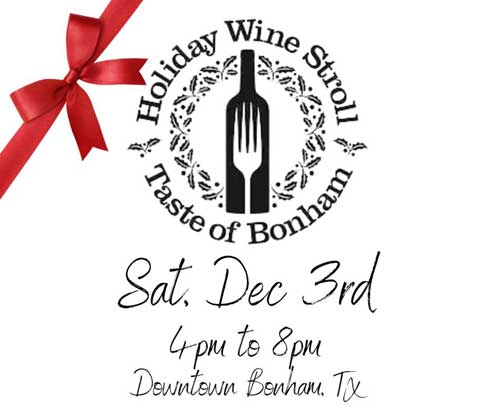 Buy your wine & food ticket early thru the FB page link, (10) Bonham Holiday Wine Stroll & Taste of Bonham | Facebook for $40 or the "Designated Driver" ticket for $20. Tickets may be purchased at the door that evening for $50 for wine & food & $25 for designated driver. If planning to attend, you are encouraged to purchase your tickets on-line prior to the event, as there will be limited availability the night of the stroll.
For more information, contact the Bonham Area Chamber of Commerce at 903-583-4811 or info@bonhamchamber.com . Follow the Holiday Wine Stroll & Taste of Bonham FB page as participants, wineries, eateries & prizes will be featured in the coming days leading up to this fun event!