Entertainment
The night 'The Killer' stayed in town
Nov 2, 2022
Editor's note: In recognition of the recent death of Jerry Lee Lewis, North Texas e-News would like to republish this article originally written in 2009 by Tim Davis
Bonham, Texas -- August 1959 might have been just another month in Bonham's history except for the fact that a young man who would become a Grammy-winning legend and an early inductee into the Rock and Roll Hall of Fame rolled into town late one evening and took a room in the city's newest hotel.
In the mid 1950s Jerry Lee Lewis embarked on a promising future in music that began in the studios of Sam Phillips's Sun Records in Memphis, Tennessee. Lewis eventually found himself in the company of other Sun legends such as Carl Perkins, Johnny Cash and Elvis Presley. It was the time of "Blue Suede Shoes," "I Walk the Line," "Hound Dog" and "Great Balls o' Fire."
In 1957, at the age of twenty-two, Lewis almost destroyed his young career when he shocked the world by marrying his thirteen-year-old cousin, Myra Gale Brown. In an effort to smooth things over with his fans and the general public, Lewis began playing any place he could. No venue, including Barrett's Place in Paris (March 1959), was too small.
When playing in North Texas, it was not unusual for Lewis to take a room in a small town hotel. Such was the case the night of August 13, 1959 when the piano pounder drove into Bonham and rented a room at the Blue Bonnet Hotel (opened May 1959). Joining him was his cousin and business manager, Chuck Lewis.
If Jerry Lee hoped to sneak out of Bonham the next morning unnoticed, it was not to be. Someone, undoubtedly a hotel employee, leaked word to Mrs. W. G. Forgy, then a reporter with the Bonham Daily Favorite. Recognizing a potentially interesting story, Forgy convinced Lewis to grant her an interview.
Moreover, realizing Lewis's appeal with teenagers, she convinced three Bonham High School sophomores, Wanda Dagley, Kathy Chaney and Sandy Moore, to meet her at the Blue Bonnet to get autographs and have their picture made with the man who became known as The Killer.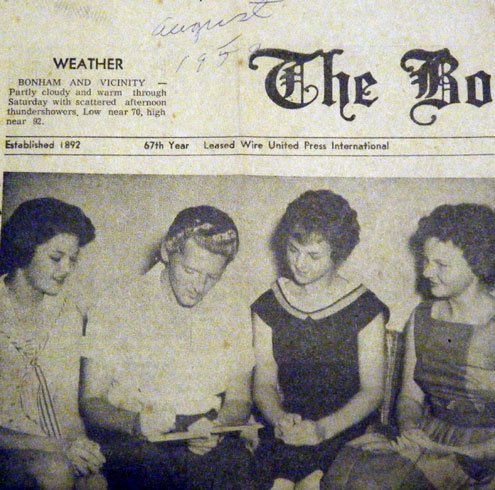 Original Bonham Daily Favorite photo of Jerry Lee Lewis signing autographs for Bonham High School sophomores, Wanda Dagley, Kathy Chaney and Sandy Moore.
Today the girls talk fondly about their meeting with Lewis. Sandy Moore, now Sandy Gox of Knoxville, Tennessee, recalls that he "was very courteous and gentleman-like. He wasn't," she further recalls, "The Killer yet."
Wanda Dagley, now Wanda Thomason of Garland, recalls how soft his hands were. "That really surprised me, given how hard he pounded those piano keys," she stated.
In the article about Lewis and his meeting with the girls that appeared in the August 14 Bonham Daily Favorite, Kathy Chaney, now Kathy Mosley of Boerne, Texas, recalled that it was the first time she "ever had the autograph of a platter spinner," referring to Lewis's former career as a radio disc jockey.
The article noted that Lewis made small talk with the girls about his latest single ("Let's Talk About Us"), his recent visit to Europe and the fact that he was in the middle of a nine-day tour that would take him through Tulsa, Paris and Port Lavaca before returning to his boyhood home of Ferriday, Louisiana.
Some Bonham residents recall that KFYN radio got in on the fun and convinced Lewis to give them an interview before leaving town.
And so, after signing a few autographs, posing for at least one picture and giving a radio interview, Jerry Lee Lewis headed for Oklahoma and left at least a few Bonhamites buzzing about the night The Killer stayed in town.
Many thanks to the following people: Suzie Henderson of the Family History Center and the ladies at the Bonham Public Library. Special thanks to Wanda Thomason, Sandy Gox and Kathy Mosley for enduring my many intrusions on their spare time. - Tim Davis