Sports
White River fishing report by Cotter Trout Dock
Jan 26, 2023
Cotter, Arkansas -- We have snow on the ground here in the northern Arkansas Ozarks. It won't last long, but it sure is pretty. And wet. Chances are good that the lake level may rise some; Bull Shoals Lake is currently at 657.05 feet msl. Yesterday's rain and snow caused a slight rise--we'll probably see more in the next few days--but the lake is still almost two feel below power pool so there is a safety net. The Corps of Engineers and Southwest Power have been varying outflows quite significantly over the past week, from just under a unit (2,500 cfs) to 4 units (12,000 cfs), so be very careful and pay attention to the river conditions if you choose to wade or anchor fish. Rapid rises can increase the trout bite but can also increase debris and may catch you off guard.
Changing water conditions has made finding the trout's favorite hiding spots a little more difficult, but as they move away from spawning grounds, browns are more than ready to grab a minnow or sculpin.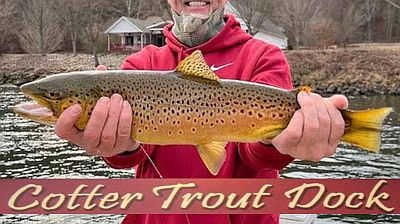 Most white lures or jigs have also proven successful, orange bellied stick baits are always a good bet, too.. Any type of yellow or peach-colored egg pattern was popular with both fly and spin fishers. Rigged just above the hook, it mimics the trout eggs after the spawn and has brought a number of browns up for pictures. Rainbow trout get a break during the winter to grow, and they're now eagerly taking worms, both live red worms and nightcrawlers or molded, scented Sunrise or Orange PowerBait.
Make sure you bundle up for early morning trips to the river; the temperature can be 5 to 10 degrees colder on the river than the thermometer reads. Our afternoon temps have been very pleasant for January. Stay warm and keep anglin'.