Entertainment
The Jewish merchants of Bonham, Texas
Oct 23, 2022
Fannin County, Texas -- During the late 1800s and early 1900s, a number of Jewish merchants and their families moved to Bonham and engaged in the mercantile trade, the cotton business and bought and sold real estate. These men were welcomed into the community, as evidenced by the fact that two Jewish merchants were among the first shareholders of the First National Bank of Bonham. They participated in the public and social life of the community, and were well thought of and respected. There was never a synagogue in Bonham, but services were held in various buildings.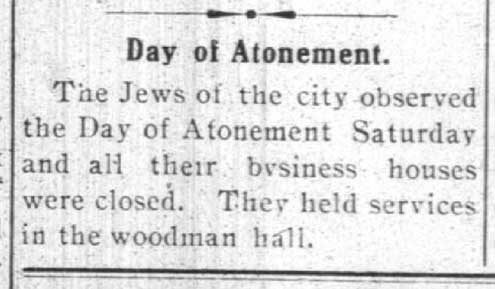 Bonham News 10-2-1906
A Jewish cemetery was established adjacent to Bonham's Willow Wild Cemetery.
David Rhine
Perhaps the first Jewish merchant was David Rhine, who along with four older brothers emigrated from Bavaria. In 1862 David Rhine was working in Gainesville, and enlisted in the Fitzhugh Company of the 16th Texas Cavalry, where he served as Quartermaster. In 1867 he moved to Bonham, where he lived until his death in 1900. He had a store on the north side of the Square in Bonham, and was also a cotton buyer. He and his wife Florence had three daughters. One daughter, Dora, attended the University of Texas in Austin in 1896 and 1897, but returned to Bonham in 1897 and died of tuberculosis. She was buried at the Jewish Cemetery in Bonham. Florence died in 1892, and David, Florence and daughter Eve are also buried in the Jewish Cemetery in Bonham.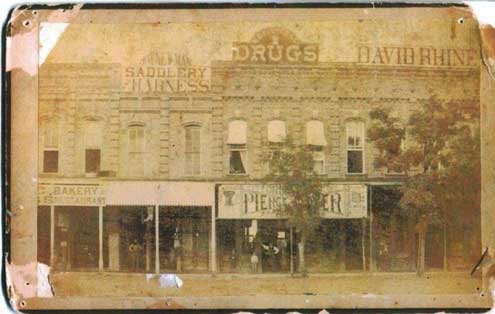 North Side of the Square in Bonham. Photo from the Fannin County Museum of History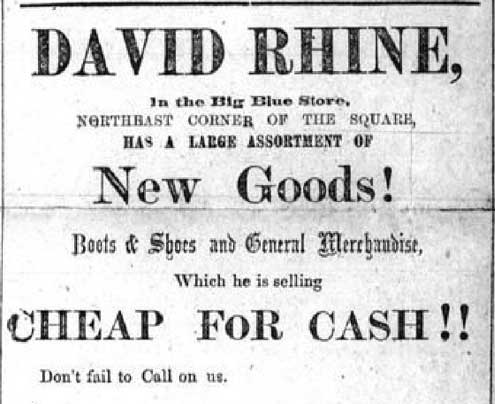 North Texas Enterprise, 6-14-1873

David and Florence Rhine had a fine home in Bonham which was built in 1871. It was purchased by Eugene Riser in 1912, and a historical marker placed on the home in 1964. Sadly, it was destroyed by fire in 1995.
Morris Rosenbaum
Morris Rosenbaum was born in Germany and immigrated to the United States in 1872. By 1881 he was living in Bonham. His business interests were numerous, and included the Bonham Bargain House, which was located on Main Street just south of the current Bonham Visitors Center. He was a merchant of dry goods and groceries and a cotton buyer. He was also a real estate developer and owned numerous properties throughout the county. He was a leader in the community. In 1908 he and his family left Bonham, and he died in Chicago in 1909. His obituary stated that he "was a public-spirited, liberal man. He was a man of excellent habits and good morals. He was also ready at all times to aid in upbuilding the town, and did as much for Bonham enterprise as almost any man who ever lived here."
His wife Isabella lived until 1937. She was an accomplished musician.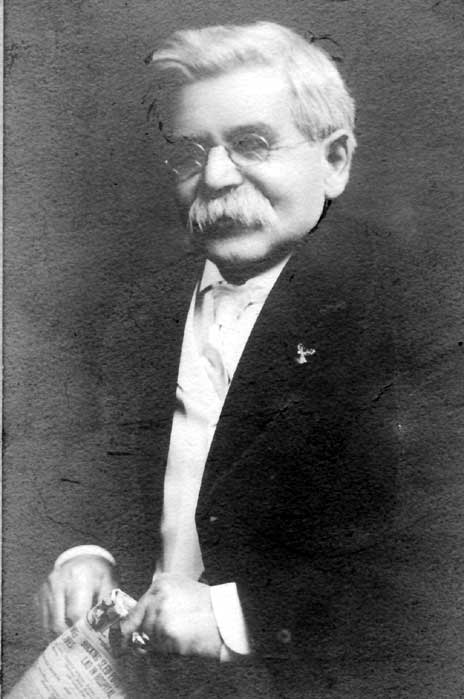 photo courtesy of Fannin County Museum of History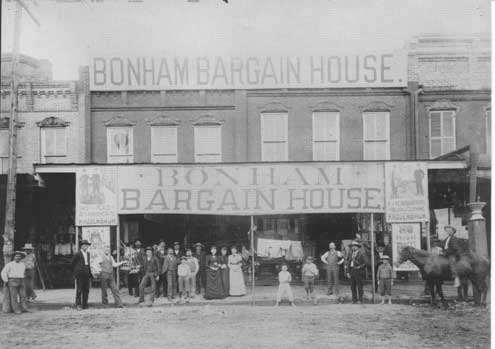 photo courtesy of Fannin County Museum of History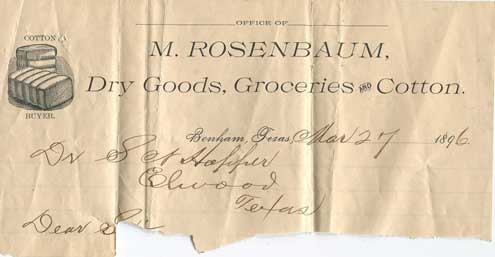 photo courtesy of Fannin County Museum of History
Marcus Klappholz
Marcus Klappholz was born in Poland and emigrated to the United State in 1886. He operated the Klappholz Bargain House on the north side of the Bonham Square.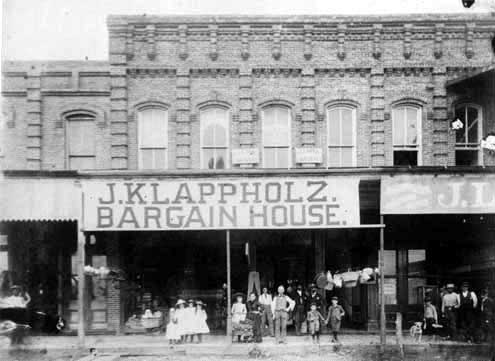 photo courtesy of Fannin County Museum of History
In 1897 he and his family left Bonham for Vienna Austria "to make their home." An article in the 2-12-1917 Bonham Daily Favorite states: "You have missed one of the good things of life in not [knowing] this little Hebrew from Austria, who came to Bonham broke and went away a broker."
He later very much regretted leaving Bonham, for in 1920, twenty-three years after leaving Bonham, he wrote to the newspaper that he, his family and his neighbors were starving. The Bonham business community came through and sent funds to Vienna. He wrote back: "You can have no idea how much we appreciate your noble gift. When it came we wept for joy . . . Many of our poor starving neighbors are also glorifying in your benevolence."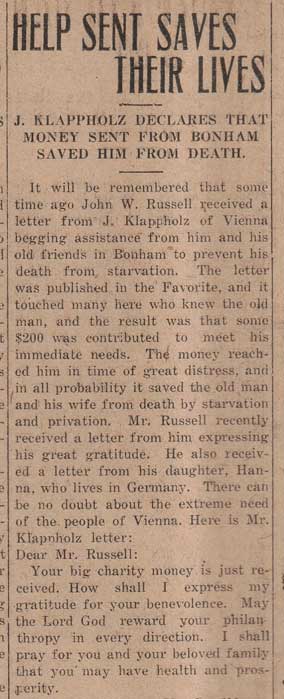 Fannin County Favorite, June 15, 1920
In July 2022 the Texas Jewish Historical Society met in Bonham to consecrate the Jewish Cemetery and learn more about the early Jewish population of Bonham. I compiled information on the individuals discussed above as well as many others, and published a book, containing many photographs and newspaper clippings. The book is available for purchase at the Fannin County Museum of History and at amazon.com. Proceeds from the sale of the book support the Fannin County Museum of History.