Lifestyles
McKinney Community Band to feature guest organist on Oct. 8 free concert
Oct 8, 2022
McKinney, Texas -- The McKinney Community Band will be performing with a featured guest musician during their fall concert, "Pipe Dreams," slated for Saturday, Oct. 8, at 7:00 p.m. The concert will take place at the Christ United Methodist Church, 3101 Coit Rd., in Plano during which several pieces will feature solo organist Bart Ghent on the church's pipe organ.
"We are so excited to welcome Bart Ghent to join our band on the stage for this concert," said Chris Heider, MCB Board President and saxophone section leader. "Bart has a sterling reputation as a fine musician and educator in Texas and beyond, and we're honored to be sharing a concert program with him."
Bart Ghent
Ghent was the organist at Christ United Methodist Church in Plano from 1996 until he retired from the post in 2021. A church organist since 8th grade, Ghent played organ and clarinet at Henderson State University, where he received bachelor's and master's degrees in music education while studying organ with Ft. Worth native Robert Ellis. He also studies in masterclasses in Paris, France. Ghent was instrumental in the design, execution, and installation of the CUMC's 92-rank Reuter Pipe Organ he'll be playing during the Oct. 8 concert.
"When designing the organ with Reuter Pipe Organs of Lawrence, Kansas, we decided to have the Swell Division have a 'French accent,' the Choir division an 'English accent,' and the overall organ be a robust American Classic sound," Ghent said of the church instrument's design process.
Ghent was also a band and orchestra director at both the high school and university levels for 37 years before retiring from education in 2013. In his retirement, he is a UIL Adjudicator, tunes pianos, and is a recording engineer throughout the DFW Metroplex.
The "Pipe Dreams" MCB concert program features two pieces that do not feature the organ – "Symphonic Suite from Far & Away" by John Williams and "Sweet Hour of Prayer" by William Bradbury and arranged for MCB by band member Tom Evans who is the trumpet section leader. The remaining four pieces all feature Ghent on the church pipe organ.
"The music that the band's Maestro Jeremy Kondrat has chosen will feature the instrument at Christ United Methodist perfectly. Rarely do you hear four outstanding works for band and organ in one concert," Ghent said. "The Saint-Saëns 'Organ Symphony' will feature the lush sounds of a cathedral organ followed by the firey reed stops in the finale. Reed's 'Alleluia Laudimus Te' is very English in flavor while Daugherty's contemporary 'Niagara Falls' shows how a pipe organ can be integrated into a symphonic sound, as has been done in some recent cinema scores. Finally, Weinberger's 'Polka and Fugue' uses the organ to bring this rollicking piece to a massive ending!"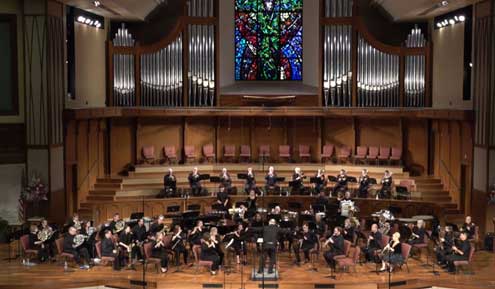 McKinney Community Band on stage at the Christ United Methodist Church in Plano.
This will be the first concert in the band's 16-year history to feature a guest instrumentalist so prominently on a program. The all-volunteer group has collaborated with vocalists from the McKinney North High School choir program and recording artists Will and Crystal Yates during past Christmas concerts. And the McKinney Dance Band, one of MCB's satellite groups, regularly features vocalists and has shared the stage with musicians from the McKinney High School Lion's Jazz Band.
Ghent said, "I'm very excited to play with the musicians of the McKinney Community Band, many of whom are friends and former colleagues," Ghent said, adding, "I hope you'll come to hear the more than 4,000 pipes of the church's instrument when it joins forces with 50-plus instruments in the McKinney Community Band!"
As always, admission is free to this concert and no tickets or reserved seating is required.
To learn more about the McKinney Community Band, visit their website at www.mckinneyband.com.