School News
Austin College Wind Symphony performs October 5
Oct 5, 2022
Sherman, Texas -- The Austin College Wind Symphony will present "Modern Folk Music" as its first performance of the 2022-2023 academic year on Wednesday, October 5, at 7:30 p.m. in Clifford J. Grum Sanctuary of Wynne Chapel. The presentation, directed by Alan Harkey of the Austin College music faculty, is free and open to the public.
The program will include "Fanfare" from the ballet "La Péri" by Paul Dukas; "English Folk Song Suite" by Ralph Vaughan Williams, including "Seventeen Come Sunday," "My Bonny Boy," and "Folk Songs from Somerset."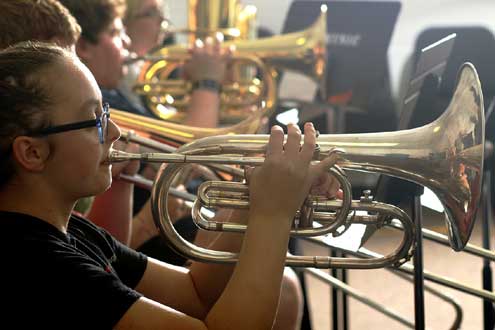 Selections continue with "Made for You and Me: Inspired by Woody Guthrie" by Michael Daughtery; "Shenandoah," arranged by Omar Thomas; and "Kentucky Mountain Portraits" by Lyndol Michell and arranged by Buddy Mattell.
The Wind Symphony consists of Austin College students and members of the local community. Instruments include flute; oboe; clarinet; alto, tenor, and baritone saxophone; trumpet; French horn; trombone; euphonium; tuba; string bass; and percussion.
Many of the students who participate in music performance at Austin College are not completing majors or minors in music, but are continuing a love of music that may have been part of their lives for many years. Music groups at Austin College are open to all students who pass the audition for the groups. Many non-majors participate in music for four years and find that they plan to continue music in their personal lives beyond college as well. From the A Cappella Choir to various ensembles and orchestras, to the recently established Pep Band, Austin College students have many outlets for continuing their love of music.
Austin College, a private national liberal arts college located north of Dallas in Sherman, Texas, has earned a reputation for excellence in academic preparation, global awareness, pre-professional foundations, leadership development, committed faculty, and hands-on, adventurous learning opportunities. One of 40 schools profiled in Loren Pope's influential book Colleges That Change Lives, Austin College boasts a welcoming community that embraces diversity and individuality, with more than 50 percent of students identifying as persons of color. The residential student body of approximately 1,300 students and an expert faculty of more than 100 educators allow a 12:1 student-faculty ratio and personalized attention. Related by covenant to the Presbyterian Church (USA), Austin College cultivates an inclusive atmosphere that supports students' faith journeys regardless of religious tradition. The College, founded in 1849, is the oldest institution of higher education in Texas operating under original name and charter.