Obituaries
Linda Sue (Biggs) Monk
Sep 28, 2022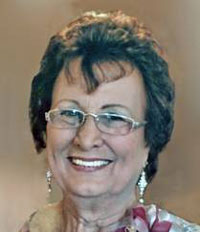 Bonham, Texas -- Linda Sue (Biggs) Monk of Ivanhoe, Texas passed away peacefully on September 27, 2022 after a long battle with cancer. She was born on October 16, 1946 in Dallas, Texas to James and Billie Biggs. She attended South Oak Cliff High School. Linda married her childhood sweetheart Norman Monk on March 21, 1963 and they enjoyed 59 years together before his death in May.

Together, they had four children of their own: Norma Partridge of Dodd City, Wendee and James McLaren of Austin, Amber and Jason Parker of El Paso, and daughter-in-law Mandy Monk of Forney. Their additional son, Daniel Grey, joined the family in 2004.

Linda spent years working in the general public and then worked as a data input operator for Blue Cross Blue Shield of Bonham for 10 years. She then returned to the world of academia in 1987 and graduated from Texas A&M with a Bachelorís Degree in Secondary Education and English with a minor in Political Science. She went on to earn her Masterís Degree in Educational Administration from Southeastern Oklahoma State University.

Linda went to teach at B. McDaniel Middle School in Denison as a special education teacher. After that, she became a high school English teacher at Sam Rayburn ISD where she enjoyed many students before her retirement from education. She then served 12 years as a trustee for the Sam Rayburn School Board.

She was an active member of the Ivanhoe Church of Christ where she enjoyed studying the perfect word of God. Linda was also a participant of the Fannin County Republican party where she enjoyed engaging in local, state, and national politics in the hopes of saving our country from liberals and progressives.

As a lifelong Dallas Cowboys fan, she thoroughly enjoyed the last two weeks where the Cowboys earned victories after fourth quarter comebacks; however, we are sure she would be disappointed later in the season as all fans have been for the last 20 years with mediocre finishes.

She leaves a huge whole in the hearts of all who loved and knew her but especially as the matriarch of the Monk family. She leaves behind her three daughters, bonus son and daughter-in-law. She also leaves 14 grandchildren: Miranda Embree, Jessica Huff, JoeDavid Huff, Crissette Campbell, Kendee Long, Caydan Copeland, Kelbey Long, Jayde Brannum, Jerry Parker, Hope Parker, Peyton Parker, Gentry Parker, Kelsea Monk, James Chris Monk, Jr., and McKenna Monk. She also leaves 15 great-grandchildren: DavidDaniel Roskowske, Aisley Embree, Lochlan Embree, Raynee Peterson, Jett Peterson, Nox Peterson, Tuff Campbell, Brek Campbell, Casen and Cambry Copeland, Leviticus Long, Layne Parker, Noah Parker and Arya Parker. She also has 2 great-great- grandchildren: Zaylie and Zaiden Roskowske. She also leaves her two sisters: Sandy and Steve Smith of Dallas and Cyndy and Paul Teas of Waco as well as too many nieces, nephews, cousins and friends to mention.

Linda was preceded in death by her husband of 59 years Norman and her parents JE and Billie Biggs of Dallas, her son James (Red) Monk of Forney and grandson Atticus James Parker.

Services will be held at Cooper-Sorrells at 2022 N. Center, Bonham, Texas on Friday, September 30, 2022 at 11:00 a.m. The family will receive guests from 6:00-8:00 on Thursday. Interment will be at Lamasco Cemetery and will be officiated by Brother Mike Dickison of Ivanhoe Church of Christ.

Pallbearers will be Jerry Parker, JoeDavid Huff, JC Monk, Jr., Peyton Parker, Jett Peterson, DavidDaniel Roskowske and Jeff Ernst. Honorary pallbearers will be Lee Skinner, Larry Gardner, brothers-in-law Steve Smith, Paul Teas, Dale Penn and Mark Poteet.

Lindaís final request was to please make sure she did not vote Democrat in the upcoming November elections.

To convey condolences or sign an online registry please visit www.coopersorrells.com.