Lifestyles
Celebrate Kenny Chesney with Barefoot Nation this Saturday at Powder Creek Pavilion
Oct 1, 2022
Bonham, Texas -- Celebrate the music of Kenny Chesney with Barefoot Nation this Saturday, October 1, 2022 at Powder Creek Pavilion, located three blocks south of the Bonham square on Hwy. 78.
Barefoot Nation happens to be Texas' only tribute to the one-and-only Kenny Chesney! Chesney has had 26 No. 1 hits, plus he is a four-time CMA Entertainer of the Year & Global Ambassador of good times!
Band members include Kaleb Tirman (Kenny), John Swanner (guitar), Dave Powell (guitar), Glenn Krupa (drums), Chris Lembo (bass) and John Howser (keyboards).
Get ready for songs about tractors and sunsets with no shoes, no shirt and no problems.
General admission advance tickets $15 at www.powdercreekpavilion.com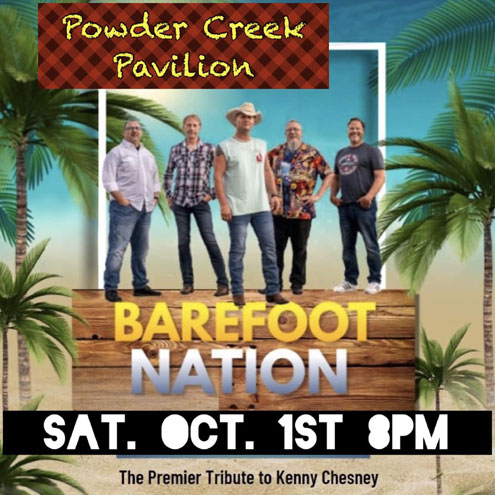 Gates open 1 hour prior to the published show start time.
Venue:
Powder Creek Pavilion (903)227-1911
520 S. Center St. Bonham, TX 75418
3 blocks S. of the square on Hwy 78.
This year we are offering free coffee, tea, popcorn, and refreshments.
Colas, bottled water, other assorted drinks, chips, candy and ice sold separately.
You are allowed to bring in your own cooler, must be 21 with I.D. to consume alcoholic beverages.