Sports
Crappie under the Christmas tree?
Oct 18, 2022
WHAT? Crappie for Christmas presents? Well, maybe but if you are a crappie angler, you can find them 'lighting up' your sonar around isolated submerged trees.
This past week, while doing the 'legwork' for this article with guide Brandon Sargent, Lead Slingers Guide Service at Lake Ray Hubbard, we fished around some large trees that have been underwater since the mid sixties when the lake filled. Without exception, when viewing the submerged timber on sonar, they resembled Christmas trees with many bright lights. The lights were, of course crappie that were staged around the timber, there feeding on hapless baitfish that were also attracted to the cover. Some of the trees were still vertical and honestly looked just like Christmas trees on sonar but others had toppled over to the lake bottom, probably years ago. Regardless of their positions, every tree we 'graphed' was holding crappie in large numbers and once we presented their preferred bait, catching was very good.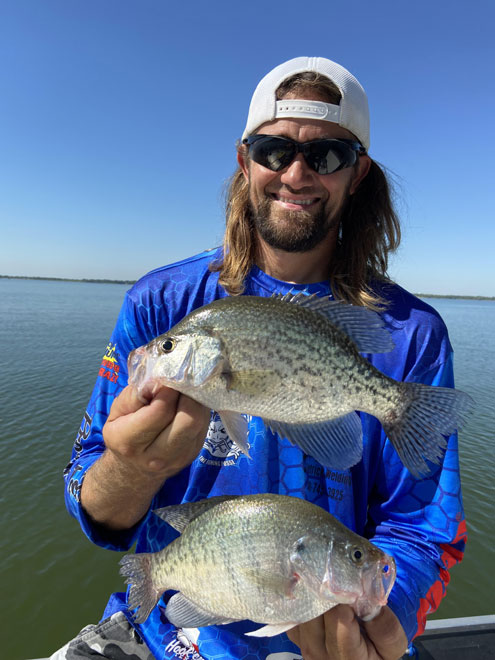 Guide Brandon Sargent with one of many crappie he and Luke landed on a recent trip at Lake Ray Hubbard. (photo by Luke Clayton)
I've always thought of crappie as being the most 'picky' of all fish when it comes to baits. Brandon had live minnows of all sizes and a wide variety of jigs. We began fishing with larger minnows and on sonar we could see numerous crappie easing up to the baits but not biting. Then, Brandon suggested we downsize to the smallest minnows and the bite instantly improved. Always experimenting with different patterns, Brandon decided to switch to 1/16 oz jig heads with small soft plastic bodies. The drill was pretty simple; cast the jigs out, allow them to slowly fall down into the branches of the tree and retrieve with a series of short twitches of the rod.
With the technology of the Livescope that gives a real time image of what is happening below the boat, we could actually watch our jigs approach a limb then fall as it passed over. Many of the strikes occurred the instant the jig reached the top of the limb and began to fall. The 'jig bite' was every bit as good as small minnows which proved to me that bait size was the key to success on this morning. I am convinced we could have continued fishing with large minnows or possibly larger crappie jigs and caught a few crappie but the fish definitely preferred small baits. I was a bit surprised at the 'soft' bite.
Usually in warm water, crappie will nail a bait hard but on this day they were simply sucking the baits in and the only indication of a bite was a 'heavy' feeling on the line, much like crappie fishing in the dead of winter. Without the sensitive rods we were using, I am convinced we would have missed the majority of bites.
A good fisherman learns to pick up on subtle clues from his or her targeted species and on this day, small bait proved to be the key. Brandon jokingly mentioned that tomorrow will be another day and the bite might be best on larger minnows or jigs. While it's common to catch a few crappie on just about any standard crappie bait, catching numbers often requires adapting to current conditions.
I've fished with many great anglers during my career and I often quiz on subtle things. What exactly is the reason the crappie we are catching today preferred larger baits just yesterday? Is it time of day? The amount of sunlight? Barometric pressure? The truth is that I don't think anybody really has a 'pat' answer to any of these questions. A good fisherman, and Brandon Sargent is a great fisherman, learns to experiment in order to find the most productive pattern on a day to day basic.
Even with crappie stacked by the hundreds on and around the submerged timber we were fishing, the bite was extremely subtle, especially for this time of year. The fish were simply sucking the baits in and the key to catching them was often the 'heavy' feeling of the line loading up. There was no rod bending 'strike' with most of the fish, simply that feeling of a taunt line. Without the sensitive rods Brandon was using, I am positive our catch ratio would have plummeted.
The drill was to fish each 'crappie tree' until the bite slowed. During our morning trip, we fished a total of 4 different trees and caught crappie from each. The bite would last thirty minutes or so and then the fish got lockjaw. It's tough to leave a bit of structure loaded with fish that are visible on sonar but when they stop feeding, it's time to move on. I think the mark of a good fisherman, regardless the targeted species, is to keep searching until actively feeding fish are located.
Our trip began a bit later in the morning and the sun was already overhead when we fished our first submerged tree. Brandon had been getting on the water at first light, fishing the same trees and found fish to be much more aggressive during low light conditions.
As the water continues to cool with the passing of each cold front, a lot of crappie will move to the mouth of small coves and into creek channels, following baitfish. But, Brandon says these big isolated trees produced fish the past few years throughout the fall months.
Deer season kicks off October 1 with the opener of archery season and many TPWD managed ranches with deer harvest quotas and permits allow hunting with any legal means at the opener of bow season. For many of us, It's tough to leave the deer woods this time of year but I can guarantee you some of the best fishing of the year is just beginning. Just as the cooling temperatures of early fall puts the whitetails on the move; cooling water triggers a feeding frenzy for most freshwater species. Mother Nature is telling fish it's time to put on the feed bag before winter sets in. I plan to spend a lot of time procuring fresh venison the next couple months but I'll also spend time stocking the freezer with a winter's supply of fish fillets! I've found fish fries are almost always well received at deer camp!
Contact Lead Slingers Guide Service at 469-989-1010.
Contact outdoors writer Luke Clayton by email through his website www.catfishradio.org Watch "A Sportsman's Life" on Carbon TV for a new outdoor show each week.