Obituaries
Garry Edwin Anderson
Sep 23, 2022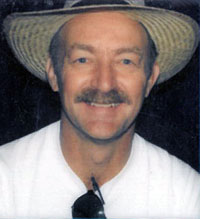 Bonham, Texas -- A celebration of life for Garry Edwin Anderson is scheduled for 2:00 p.m. Saturday, October 1, 2022 at 7th and Main Baptist Church, 617 N Main St. Bonham TX 75418. Pastor Cody Nelson will be officiating the service under the direction of Cooper-Sorrells Funeral Home. Family visitation will be held before the service at 1:00 p.m.

Garry passed away on Tuesday September 20, 2022, peacefully at home surrounded by those he loved. Mr. Anderson was born in Bonham, TX on December 14, 1946, to the late C.M. and Helen Anderson. He attended school in Randolph TX and later graduated from Bonham High School. Shortly after graduation, he was called to duty by the U.S. Army. After being honorably discharged from the Army, he returned to his hometown where he met and married the love of his life, Linda Snow Anderson. He was a proud member of the Bonham community and enjoyed his time working at the Southwest Pump and later retiring from the Bonham V.A. Hospital.

Garry was a dedicated husband, father, grandfather, and friend who loved spending his time with those close to him. He will forever be remembered for his love of giving and of course his comical and sarcastic personality. He was always playing practical jokes on his coworkers, friends, and family and would always leave you with a smile.

Mr. Anderson enjoyed his time on the family farm, ensuring the landscape was kept tidy and that the animals were well fed. He always had a project to keep him busy and those passing by on the highway would drop in when the shop doors were open. Over the last three years he also enjoyed making memories with his dearly loved friend, Carolyn. We all know he loved his family and friends, but his other two loves were his 1982 Stingray Corvette and John Deere Tractor.

He is preceded in death by his wife Linda Snow Anderson, parents C.M. and Helen Anderson, and sister Barbara Atchley. Garry is survived by son and daughter-in-law Anthony and Brandi Anderson, son and daughter-in-law Aaron and Herica Anderson, grandchildren Kalee and Dustin Robinson, Lexi and Noah Kirk, Ethan and Alex Samora, Savana Anderson, Rylee Anderson, Cody Anderson, Kayson Anderson, great grandchild Cooper Robinson, numerous nieces, nephews, and those who he considered a part of the family.

In lieu of flowers, the family requests that donations be made to Randolph Lindsey Cemetery P O Box 233 Randolph Tx 75475.

Arrangements are under the direction of Cooper-Sorrells Funeral Home Bonham, Texas.

To convey condolences or sign an online registry please visit www.coopersorrells.com.