Farm and Ranch
Texas A&M AgriLife Extension to host a Fall and Winter Tree Health Clinic in Sherman Sept. 23
Sep 23, 2022
Friday, September 23
Sherman, Texas -- North Texas has suffered a brutal winter in 2021 and a hot, dry summer in 2022. For desirable trees, this one-two punch had a disastrous impact on overall tree health.
Many North Texas trees have barely survived. Tree deaths can impact home or ranch value, and in some cases can cause damage to home or auto if they fall or drop large branches. Now is the time to act to ensure that you keep your investment safe.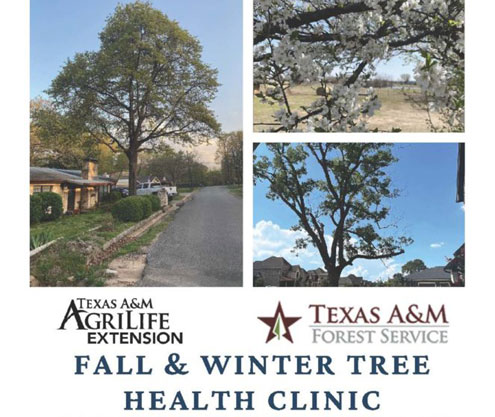 Texas A&M AgriLife Extension and Texas A&M Forest Service will be hosting a Fall and Winter Tree Health Clinic in Sherman, TX (September 23, 2022; from 1:00 p.m. to 4:00 p.m.).
Lee Brown, a Certified Master Arborist with Tree Wise Arboricultural Consultants, Mike Sills, the District IV Urban Forester for Texas A&M Forest Service, and Dr. Chad Cummings, Grayson County Texas A&M AgriLife Ag and Natural Resources Extension Agent will be here to discuss:
Integrated Pest Management for diseases and insect pests in urban trees and ornamental trees (1 IPM TDA CEU)
Post-drought considerations for tree health in the fall and winter
Pesticide Label Interpretations in tree health products (1 Laws and Regs TDA CEU)
A walk around the courthouse to discuss tree health issues in the real world
The fee will be $20 per person for the clinic. Door prizes will also be available.
The Grayson County Website (https://grayson.agrilife.org/treeclinic/) will be open for registration soon. Since this meeting is open to the public, and does not include a meal, registration will be open till the day of the meeting. Due to room size we are capped at 50 attendees, so register soon.
For questions, call 903-813-4202 or email Chad Cummings at chad.cummings@ag.tamu.edu