Sports
How to prepare wild pork
Sep 20, 2022
We have an abundance of free, wild pork roaming the hills and creek bottoms across most of the Lone Star State. Yes, larger boars, if they are in good condition and not actively breeding, make excellent table fare but the meat does need to be tenderized before cooking. Younger animals obviously are tenderer and require less time to prepare. Iím often quizzed about cooking wild pork.
The question, ďLuke, are those wild hogs really good to eat,Ē is often asked.
My reply is, yes, wild pork can be tasty if prepared properly.
I often reply with a question of my own: ďIf you were at a livestock auction looking for a hog to butcher, would you purchase a big, old boar or a younger more tender animal?Ē
Just keep in mind that with tougher cuts from larger boars slow cooking with low heat over several hours with moisture is key. I prefer marinating the tenderized cuts overnight in a 50-50 mixture of Louisiana Hot Sauce and milk.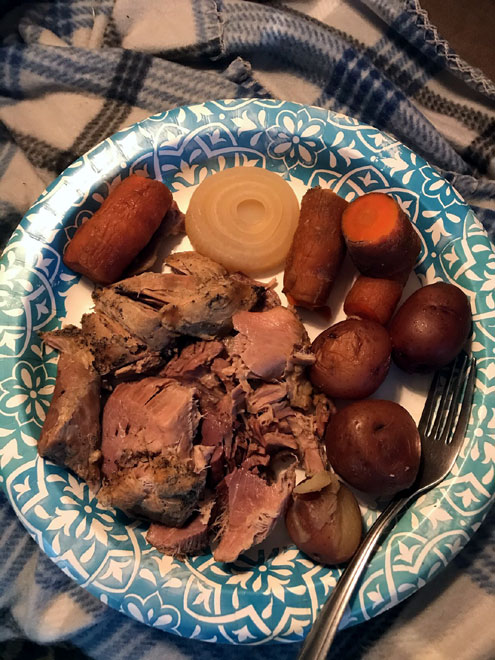 This tasty roast was prepared from wild pork. Wild pork is usually much leaner than that of domestic hogs and often requires slow cooking with moisture to bring out the flavor and tenderness. (photo by Luke Clayton)
Iím all about one-skillet meals whether at camp or home. Here are four methods Iíve used to transform wild pork into some very tasty meals. Ham steaks cut from the top of the ham or backstraps work best. Here are a few of my favorite methods of preparing wild pork.
Smothered wild pork steak with rice and gravy
Dust the marinated steaks with flour and brown in a cast iron skillet with olive oil. After steaks brown, place lid on the skillet, add about half a chopped yellow onion and allow to cook on low temperature for about 40 minutes, turning a couple of times to avoid sticking.
Drain the excess oil and add a large can of cream of mushroom soup along with a can of water. Stir well to insure the soup dissolves. Dust with black pepper and salt to taste. Place lid back on the skillet and continue to cook on low temperature for 30 minutes, stirring occasionally to avoid sticking.
At this stage, the steaks will be fork tender. Add a cup of rice and a couple more cups of water; stir to blend well into the steak/gravy mixture. Continue cooking on very low heat for 20 minutes. Turn the heat off and leave the lid on. This allows the rice to absorb more water and become even tenderer. Open a can of Margaret Holmes seasoned collard greens and serve with hot biscuits.
Wild pork steak with vegetables
Sear steaks on both sides in butter in a cast iron skillet. Place lid on skillet, add a cup of water to avoid sticking, turn heat to low and simmer for 40 minutes. Next, add quartered medium-sized potatoes, onion, bell pepper (or jalapeno), carrots and a couple pieces of celery cut about 5 inches long.
Add enough water to cover the steaks and veggies, and place a few bay leaves on top. Simmer for an additional 30 minutes. Remove lid and reduce most of the moisture. This dish goes well with hot, buttered cornbread.
Hunting camp Mexican guisado
Cubed lean cuts of wild boar work well with this dish. One pound of cubed meat is about right for six people. Begin by seasoning cubed pork with salt and pepper. Dust pork with flour and brown in cast iron skillet with about 4 tablespoons of olive oil.
When meat is browned, drain most of the oil and add two small cans of chopped tomatoes, one small can of tomato paste, one medium-sized onion, cut into small pieces, three large Anaheim peppers (chopped), half a cup of celery, one carrot cut into small cubes, four fresh garlic pods, finely diced, 2 teaspoons ground cumin, 1 tablespoon salt and 2 teaspoons marjoram.
Place lid on skillet and simmer for 45 minutes, stirring often to prevent sticking. Serve with Spanish rice and hot buttered corn or flour tortillas.
Skillet wild pork backstrap
Trim and cut the backstrap so that it fits into the skillet. A 14-inch skillet will usually hold an entire backstrap that is cut into two or three pieces. Make a cut down the length of each piece of backstrap and open it up so that it resembles a hot dog bun.
Dust liberally with your favorite dry seasoning and place a couple strips of bacon into each of the backstrap pieces. Finely chop several pods of fresh garlic, a couple bunches of fresh cilantro, two seeded, cored jalapeno peppers and several Serrano peppers.
Spoon the ingredients into the top of each cut of backstrap and bake at 325 degrees for approximately one hour until the pork is well done. Slice into thick pieces and spoon on the stuffing mixture. Garlic mashed new potatoes go well with this dish.
Skillet boar fajitas
Donít think for a minute that beef skirt steak is the only meat suitable for making fajitas. Wild pork backstrap or top round from the hog makes some of the best tasting fajitas imaginable. Begin by slicing the strap into pencil-sized fajita strips.
Marinate overnight in Fiesta fajita seasoning and the juice from a couple of fresh lemons. Put a little olive oil in the skillet and dice a couple strips of bacon; fry until itís crispy and add some finely chopped fresh garlic.
Now, incorporate the fajita strips and on high heat and cook until meat is done. Add sliced onion, red and yellow bell peppers and a couple of diced jalapenos. Continue cooking until the veggies are tender. The day before I make fajitas, I cook a pound of pinto beans until very well done, mash them and add garlic salt, a little red pepper and crisp fried bacon strips.
Wild boar fajitas served with homemade refried beans and Spanish rice makes will be reason enough to plan that next hog hunt.
We can get by in the field with a loaf of bread and a jar of peanut butter and jelly but, with a little forethought and planning, we can make our meals memorable dining experiences. One bit of forewarning though, once you assume the duties of camp cook and begin turning out tasty meals, you are apt to be assigned the job permanently. But, thatís not all bad. Itís gotten me out of a lot of game and fish cleaning!
Contact outdoors writer Luke Clayton through his website www.catfishradio.org