Obituaries
Sherry Lynn (Baker) Thomas
Sep 13, 2022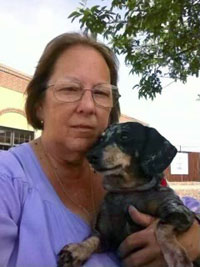 Bonham, Texas -- Sherry Lynn (Baker) Thomas was relieved of her cancer and pain to go be with her mama, in her Heavenly Home on Monday morning, September 12, 2022.

Sherry was born to Jerry (Jones) Baker and Earl Baker on June 20, 1956, at Perrin Air Force Base in Sherman, Texas.

Sherry became Momma to her one and only daughter, Christy Louise (Gardner) Tigert, who she referred to as her "princess", on February 10, 1975. Christy went on to bless her momma with FIVE grandchildren, Ethan, Luke, Wyatt, and Trent Gibbs and Lily Brooke Curry.

Ethan Gibbs and wife Jordan, and Luke Gibbs and wife Nikki, awarded their grandma Sherry with the title of GREAT grandma to Jaxxon Rose and Luke Wayne (L.J.) Gibbs.

Sherry is survived by her daughter, Christy, and son-in-law Brandon Tigert; all her grandchildren and great grandchildren; her younger brother, Robert Lee Baker and his wife Amanda Baker, Sherry's niece, Fallon, and nephew, Sage; and her father Earl Baker.

Sherry spent almost 22 years looking through the windshield of an 18-wheeler, as a long-haul truck driver for U.S. Xpress, with 16 of those years spent having her beloved weenie dog, Blue, in the passenger seat. Sherry never missed a beat, up and down snowy mountain, anywhere and everywhere in the U.S., jamming out to Dwight Yoakam and Kid Rock. Sherry was known as "Blue Grandma" by her grandbabies because of that hateful little dog that loved her so much.

When Sherry was home off the road, she spoiled all the kids often, and made sure they had no needs unmet. She always had a fresh set of nails before hitting the road again. Sherry was a tough lady who experienced things that would break most folks, but she smiled through, and she never complained. She took pride in giving the best she could, to her daughter, and was forever supportive of her.

Sherry was the coolest truckin' momma around, and always had something feisty and funny to say. She loved blue butterflies, yellow roses, Christy's homemade cheesecakes, and puppy dogs. She was a momma, a Blue Grandma; sweet, and the most selfless human being that ever existed, and she will be extremely missed, and thought of often.

Graveside services will be at 10:00 a.m. on Saturday, September 17, 2022 at Fairview Cemetery in Ravenna, TX. Pastor Terry Paul Cunningham will officiate.

Serving as pallbearers will be Ethan Gibbs, Luke Gibbs, Wyatt Gibbs, Trent Gibbs, Brandon Tigert, and John Curry.

No visitation will be held. Arrangements are under the direction of Cooper-Sorrells Funeral Home Bonham, TX.

To convey condolences or sign an online registry please visit www.coopersorrells.com.