Lifestyles
Theater for Hope presents The Secret Garden Sept. 8-10
Sep 10, 2022
Sherman, Texas -- Theater for Hope is pleased to present The Secret Garden, an enchanting classic tale which is adapted from the novel by Frances Hodgson Burnett and reimagined in brilliant musical style by composer Lucy Simon and Marsha Norman, the Pulitzer Prize-winning playwright of 'Night Mother. Performances begin this Thursday, September 8 and run through Saturday, September 10.
Orphaned in India, 11-year-old Mary Lennox returns to Yorkshire to live with her embittered, reclusive uncle Archibald and his disabled son Colin. The estate's many wonders include a magic garden which beckons the children with haunting melodies and the "Dreamers," spirits from Mary's past who guide her through her new life, dramatizing The Secret Garden's compelling tale of forgiveness and renewal.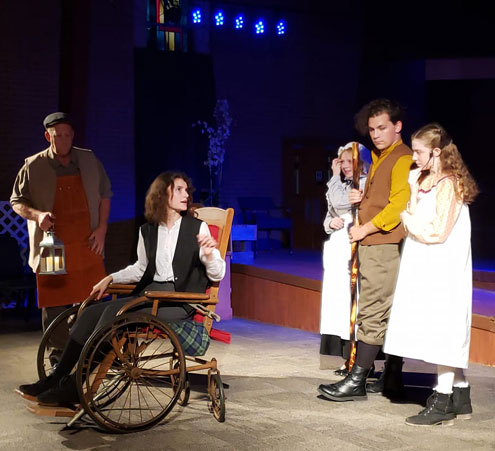 Colin Craven (Mattie Scheibmeir) learns about the secret garden through the eyes of gardener Ben Weatherstaff (Tom Bryson), Martha (Andrea Bryson), Dickon (Aaron Jobe), and Mary Lennox (Avery Williams)
The production is led by Webster Crocker (Director), Heidi Scheibmeir (Vocal Director), Leandra Williams (Choreographer), and Tom Byson (Orchestra Director). Playing the orphaned Mary is Avery Williams and the sickly Colin Craven is Mattie Scheibmeir. Luke Rostyne portrays Archibald Craven, the uncle that takes Mary in, and Lilly Boessen plays the role of his wife Lily Craven. Other central characters are played by Jaden Petty (Dr. Neville Craven), Logan Shurtleff (Mrs. Medlock), Tom Bryson (Ben Weatherstaff), Andrea Bryson (Martha), Aaron Job (Dickon), Brittani Crocker (Rose Lennox), and Leo Lau (Captain Albert Lennox).
Rounding out the cast are Sarah Williams (Alice), Anthony Scheibmeir (Lieutenant Shaw), Tevan Collins (Lieutenant Wright), Scott Horsley (Major Holmes), Heidi Scheibmeir (Claire Holmes), Amanda Mount (Fakir), Mo Mount (Ayah), Anna Shaw (Mrs. Shelley), and Marcus Brown (Major Shelley) along with ensemble members Mauricio Canas, Emma Crocker, Molly McCrady, and Miriam Scheibmeir.
Integral parts of the production are a 12-member orchestra and a group of dedicated costumers, prop masters, and crew.
The production which is held in conjunction with the Children's Chorus of Greater North Texas and Art Club Studio can be seen at Hope on Houston, 901 E Houston St., Sherman, TX. Performances are on Thursday through Saturday, September 8, 9, and 10 at 7 p.m. and at 2 p.m. on September 10. Tickets are on sale now at www.theaterforhope.com.
The Secret Garden is performed by special permission from Concord Theatricals.