Lifestyles
Silver Leos Writers Guild Conference slated Oct. 1
Sep 30, 2022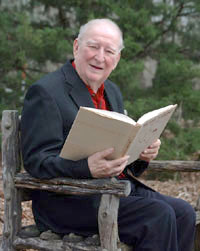 Wolfe City, Texas -- Following a two-year hiatus, Silver Leos Writers Guild is pleased to announce the return of the Fred A. Tarpley Memorial Writers Conference scheduled for Saturday, October 1, 2022. The conference sponsored by the Commerce-based writing group begins with a 9:00 a.m. check-in and wraps up at 2:00 p.m. The scenic Webb Hill Country Club located at 438 CR 2358, Wolfe City, Texas 75496 is the location for this year's conference.

Morning and afternoon presentations by Jim H. Ainsworth and Caleb Pirtle serve as bookends for Reavis Z. Wortham's keynote luncheon presentation. The non-refundable fee of $30 for non-members and $25 for members includes conference materials, a buffet lunch, refreshments, and door prizes. To register for the conference, send check or money order along with address, daytime phone, and email to SLWG Conference, P. O. Box 1123, Commerce, Texas 75429. Registration must be postmarked by September 23. A confirmation email will be sent following receipt of payment.

Delta County native and Campbell resident Jim H. Ainsworth starts the morning with his discussion of Discovering, Imagining, and Developing Characters. Known for writing what he knows, the award-winning author is a true storyteller, weaving places, personalities, and personal experiences into nine novels, a story collection, a memoir, four business books, and hundreds of newspaper, magazine, blog stories and articles, The former accountant and financial planner, who was twice named one of the Most Influential Accountants in America and published with John Wiley and Sons, captured a childhood dream in 1998 when he and a cousin organized an authentic horseback and wagon trip. The 325-mile, 14-day adventure retraced their grandparents journey across Texas from Callahan County to Delta County and was recorded in a memoir, Biscuits Across the Brazos. This was followed by his "Follow the Rivers" and "Riverby" series. Novels in these fictional series spotlight true-to-life settings, characters, and situations. Those looking for non-fiction and inspirational content should check out Ainsworth's story collection, A River of Stories, and Believing in a Grand Thing: Stories of Faith. Jim Ainsworth continues to write among the pastures and trees of his Bar Nun Ranch where he lives with wife Jan, horse Shooter, and cat Jade. Find out more at jimainsworth.com.

Reavis Z. Wortham, On Writing is our luncheon keynote topic presented by the two-time Spur Award recipient. Although he grew up in Garland, Reavis Wortham's heart remained on the small farm owned by his grandparents in the small community of Chicota in Lamar County. It's this portion of rural Texas where the retired public educator set his "Red River Mysteries," publishing his first novel, The Rock Hole, at age 56. His latest work in the series, The Texas Job, was released in February. Wortham transitions from mystery to thriller with "The Sonny Hawke Series." Continuing his propensity for authenticity, whether through setting or dialogue, the author moves his characters further west as Texas Ranger Sonny Hawke tracks down those that dare to break the law or cross his path. Novels from this second series earned Wortham consecutive Spur Awards in 2019 and 2020 from the Western Writers of America for Hawke's War and Hawke's Target. An avid outdoorsman, Wortham's humor columns appear in Texas Fish and Game Magazine, The Paris News, Country World Newspaper, Vintage Trucks Magazine, and Saltwater Texas among others. Reavis Wortham and his wife, Shana, make their home in North Texas. Learn more about the author at reaviszwortham.com.

Caleb Pirtle wraps up the day's event with Plots: Don't Cross the Wrong Bridge. Just as travelers need a roadmap, writers need a plot to keep the story moving forward. Caleb Pirtle's personal journey carried him from Kilgore and the oil fields of East Texas to a journalism degree to being the first travel editor for Southern Living Magazine, a newspaperman for the Ft. Worth Star-Telegram, and editorial director for a custom publisher in Dallas. Describing himself as "the man who talks to strangers," Pirtle collected a treasure trove of stories through his travels and interactions with everyday and not-so-everyday people. With 70 published books to his credit, Pirtle's novels include the "Ambrose Lincoln" and "Boom Town Saga" series. The latter of which garnered Best in Texas Book Awards for Backside of a Blue Moon (historical fiction) and Bad Side of a Wicked Moon (historical mystery). Other works include a best-selling art book; three produced screenplays; and a couple of memoirs thanks to all those strangers he met along the way. Caleb and wife Linda, also a published author, live near Ft. Worth where they "connect readers, writers, and books" through their Here Comes a Mystery website and collaborate with eight other authors on their Magnolia Bluff series. Look them up on calebandlindapirtle.com.

For more information concerning the Writers Conference or Silver Leos Writers Guild in general, contact Sharon Feldt at abcshardon@aol.com or 832-687-6617; Bobbie Purdy at bobbie@arlanpurdy.com or 903-886-6120. Silver Leos Writers Guild is a chapter of the Texas A&M University-Commerce Alumni Association.