Lifestyles
Cherry Bomb - tribute to Women of Rock - at Powder Creek Pavilion Sept. 24
Sep 24, 2022
Bonham, Texas -- Powder Creek Pavilion welcomes Cherry Bomb, a tribute to women who rock, on Saturday, September 24 at 8:00 p.m.
$15 Cover. Bring your cooler.
Cherry Bomb is the quintessential tribute to the Women of Rock. Since January 2015, Cherry Bomb has blazed a rock 'n' roll trail across the Southwest, wowing audiences with their high energy performances and incredible musicianship. They play everybody's favorites – a veritable metric ton of good-time rock 'n roll, and bring the party in a way other bands can only hope to. Cherry Bomb will get your crowd singing, dancing, and rockin'.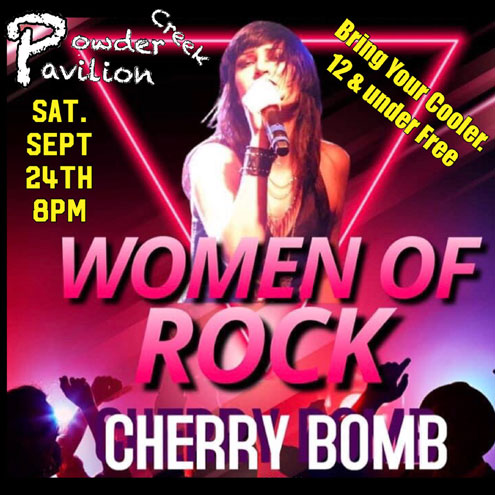 Powder Creek Pavilion event info
Gates open 1 hour prior to the published show start time.
Powder Creek Pavilion (903)227-1911
520 S. Center St. Bonham, TX 75418
3 blocks S. of the square on Hwy 78.
This year we are offering free coffee, tea, popcorn, and refreshments.
Colas, bottled water, other assorted drinks, chips, candy and ice sold separately.
You are allowed to bring in your own cooler, must be 21 with I.D. to consume alcoholic beverages.
Children under 13 get in free.