Lifestyles
Digital Learning Workshops at Honey Grove Library
Sep 27, 2022
Honey Grove, Texas -- Honey Grove - Honey Grove Library & Learning Center is among over 160 public libraries nationwide awarded funding by the Public Library Association (PLA) to conduct digital literacy workshops using Digitallearn.org resources. The PLA Digital Literacy Workshop Incentive, supported by AT&T, provides support to libraries of all sizes to conduct digital literacy training in their communities and help close the digital divide.
Honey Grove Library& Learning Center will offer digital literacy workshops on Wednesdays at 10:00-11:00 a.m. from September 21- October 12. These workshops will focus on helpful topics such as Basic Computer Use, Email Basics, and Tablet Basics. Additionally, the library's Digital Literacy Lab will be open Saturdays at 10:30 a.m.- 12:00 p.m. There will be staff available to answer questions and help troubleshoot technical problems.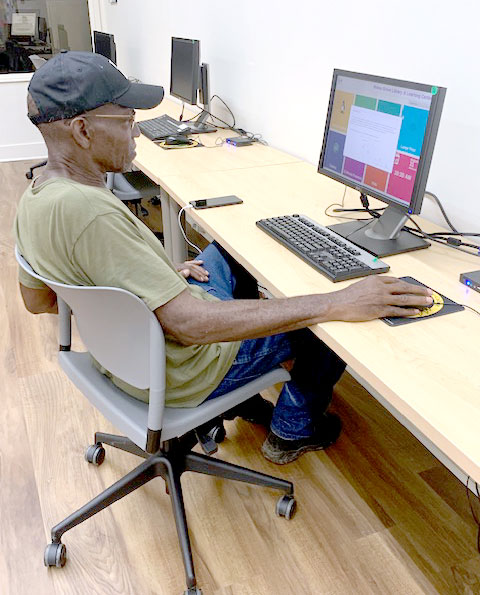 One of the library's adult patrons, Tony Burton, uses one of the public access computers.
"The mission of libraries has always been about equitable access to information, literacy, learning, and culture. In the age of COVID-19, this mission has only become vital as libraries have played a critical role in keeping communities connected and online," said PLA President Maria McCauley. "A 2020 PLA survey found that about 88% of public libraries provide some form of digital literacy support, but only 42% offer formal classes. Staffing and funding were the top barriers to providing technology training. AT&T's investment with PLA and public libraries nationwide will boost access to digital literacy skills for the most vulnerable in our communities."
"The Honey Grove Library & Learning Center is honored to receive this support, and we look forward to bringing these workshops to our community. We want to help all members of our community build their skills to access digital information and services," said Mitzi Sherwood, Library Director. "These workshops are designed so that learners can select topics that interest them and learn at their own pace, with staff providing guidance and individualized instruction."
About the Public Library Association
The Public Library Association (PLA) is the largest association dedicated to supporting the unique and evolving needs of public library professionals. Founded in 1944, PLA serves nearly 9,000 members in public libraries large and small in communities across the United States and Canada, with a growing presence around the world. For more information about PLA, contact the PLA office at 1 (800) 545-2433, ext. SPLA, or pla@ala.org.
About Philanthropy & Social Innovation at AT&T
We're committed to advancing education, creating opportunities, strengthening communities. and improving lives. As part of our companywide $2 billion commitment from 2021-2023 to address the digital divide, we launched AT&T Connected Learning to invest in connectivity and technology, digital literacy, and education solutions. We aim to help today's learners succeed inside and outside of the classroom. Since 2008, we've committed more than $600 million to programs that help millions of students across all SO states and around the world, particularly those in underserved communities.