Local News
Fannin County Historical Commission honored with Distinguished Service Award
Aug 15, 2022
Fannin County, Texas -- The Fannin County Historical Commission is a proud recipient of a Distinguished Service Award for its work in 2021.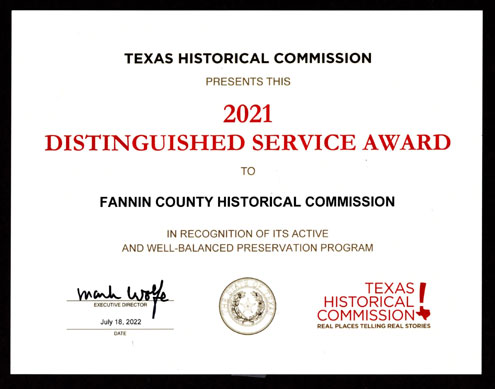 The award from the Texas Historical Commission (THC) was presented to members of the Commission on Tuesday, August 9 at Commissioner's Court. Pictured are Commission members Tom Thornton, Larry Standlee, Stacie Flood and Barbara McCutcheon. Other Commission members are Malinda Allison, Barbara Gore, Mart Means, Audrey Rayford.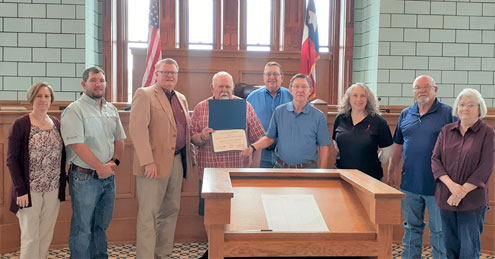 (L-R) Edwina Lane, Pct. 1 Commissioner; A.J. Self, Pct. 2 Commissioner; Randy Moore, Fannin County Judge; Tom Thornton, Fannin County Historical Commission; Jerry Magness, Pct. 3 Commissioner; Larry Standlee, Fannin County Historical Commission; Stacy Flood, Texas Historical Commission; Dean Lackey, Pct. 4 Commissioner, Barbara McCutcheon, Fannin County Historical Commission
Each year in January the Historical Commission is required to submit a detailed report on its activities for the past year to THC. The Distinguished Service Award is based on that report.
Among the activities in 2021 were: (1) Representation on the Courthouse Rededication Committee; (2) Presentations to various community groups; (3) Numerous postings on the Fannin County Historical Group Facebook page; (4) Research, photographing and posting of materials on cemeteries and interments at cemeteries in Fannin County; (5) Addition of Fannin County items to the Portal to Texas History; (6) Support of the Photo Database of the Fannin County Museum of History; (7) Preparation of an application for a historical marker for the Flat Prairie community near Lake Ralph Hall.
The office of the Fannin County Historical Commission is on the east end of the old Texas and Pacific Railroad Depot just a few blocks south of the Courthouse square. The office is staffed several afternoons a week. Meetings are held on the 3rd Tuesday of the month at 6 pm, and anyone interested in Fannin County history is encouraged to attend. Information on Fannin County history is at the Commissionís website, www.fannincountyhistory.org