Lifestyles
36th Annual Bois d'Arc Bash September 23-24
Sep 24, 2022
Commerce, Texas -- Come join us for the annual Bois d'Arc Bash celebration held on the square in downtown Commerce, Texas.
The Bois d'Arc Bash is now in its 36th year.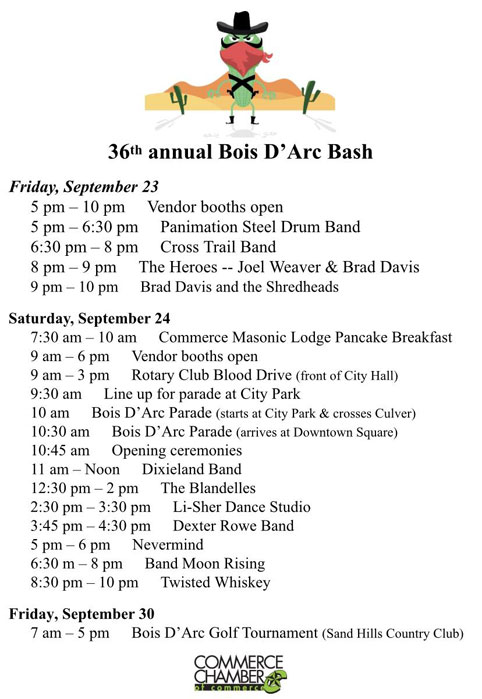 Since 1986, Commerce has set aside the 4th weekend in September to celebrate the bois d'arc tree (pronounced "bow-dark") at the Bois d'Arc Bash. It is also referred to as an Osage orange tree, hedge apple tree and horse apple tree. We celebrate this unique and tough tree and hope you will join us for a weekend of fun in the Bois d'Arc Capital of Texas!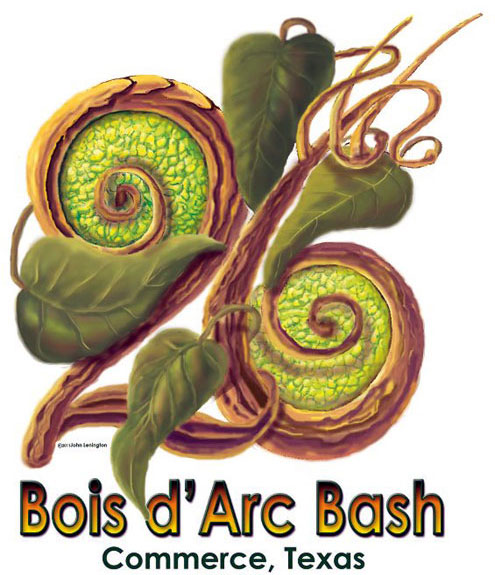 Each year thousands of people attend the Bash, eager to enjoy a fun-filled family event featuring:
Entertainment
Music
Food and drink vendors
Numerous games and attractions including a carnival at Farmer's Market
Over 125 shopping booths and displays on Saturday
Parade on Saturday
Lots of fun for the whole family!

Entry to the Bash is FREE to the public (no gate charge) and proudly presented by the Commerce Chamber of Commerce and our generous sponsors. By City ordinance, dogs are not allowed on the square during the Bash.
Take a look at the jam packed schedule (Bash Schedule)!
Vendor and sponsorship applications are available online.
For more information contact:
Commerce Chamber of Commerce
903-886-3950
FAX: 903-886-8012
info@commerce-chamber.com