Obituaries
Arnold Norvell Richardson
Aug 2, 2022
Telephone, Texas -- Arnold Norvell Richardson gained his heavenly home July 26, 2022 in Sabattus, Maine, with his loving family surrounding him. Arnold was born May 9, 1958 in Commerce, Texas to Henry Leslie SR, and Viola Vivian Cooper Richardson. He married Sarah Sue Curtis in 1978 and they enjoyed 44 years together.
Since 1999 Arnold was a Senior Master Technician for Ford, working at several dealerships in northeast Texas and southern Oklahoma. He loved his family and enjoyed working on the family homestead in Telephone, Texas. Any automotive issue he could help a neighbor with was on the agenda, and "car talk" was a regular part of any dinner or conversation. He was a member of the Lamasco Baptist Church. When he wasn't helping friends and neighbors out with cars, he would frequently torture his children (when they were younger) with Twilight Zone, Star Trek, or Gunsmoke marathons on television.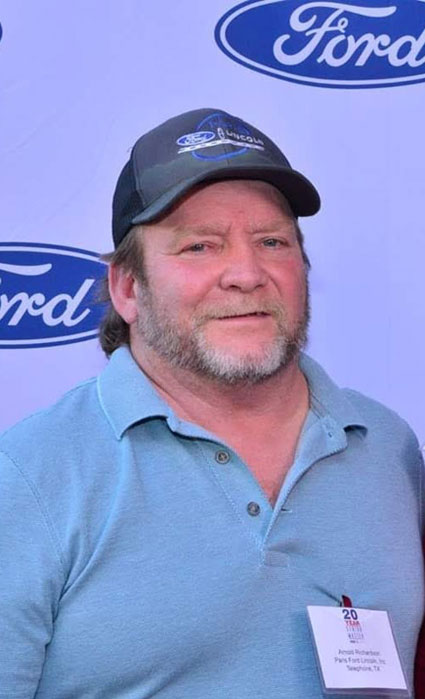 Arnold is survived by his wife Sarah, daughters Jamie (John P) of Arlington, TX, and Chantel (Zak Waddell) of Telephone, TX; sons Jesse of Crofton, MD, and Robert (Kim) of Sabattus, ME, grandchildren Sarah Lynn, Dreyvan, Taylor, Braden, Naomi, Kaelyn, Miriam, Logan, Killian, and Bowie. He is also survived by brothers Henry Leslie Jr of Greenville, Norman Richardson of Commerce, TX, sister Carla of Sulphur Springs, TX, and numerous nieces and nephews. He is preceded in death by his parents, brother William Thomas, nephew Ricky Richardson, and niece Brenda Jane Richardson.
A memorial service in Texas will be planned at a time to be determined later as travel arrangements can be made.