Obituaries
Mabel Holmes
Jul 30, 2022
Honey Grove, Texas -- Mabel J. Allen Franklin Holmes of Allens Chapel, Texas was born Jan 5, 1926, to Albert Henry Allen and Bertha Othelia Ryser Allen. She was born at home in a small saltbox house just behind her current home where she spent the last 50 years of her life. She passed away peacefully the morning of July 28, 2022, at TMC Bonham.
She attended Allens Chapel School and graduated from Honey Grove High School in 1945. After high school, she attended Draughon's Business College for one year in Dallas. She then worked in the USA office of Price Administration doing her part for the war effort.
On August 25, 1944, Mabel married Robert Neal Franklin who had also grown up in the same community. They married in Hugo, Oklahoma where it took less red tape to get married. On February 26, 1946, Mabel gave birth to her only child, Larry Don Franklin in Dallas, Texas.
Upon her return to Allens Chapel, she returned to her family farm, worked the land, and raised cattle, for which in 2007 she received the Lady Farmer of the Year award. Mabel found a job as a secretary at B&W in Paris, Texas. She later worked at John Deere in Paris and Massey-Ferguson in Bonham. She knew farm equipment better than most of the farmers in the area.
Mabel had a strong love of horses, and she was a founding consequential member of the Honey Grove Roundup Club. Retirement did not suit her, so at the age of 75 she opened her fireworks stand, and tirelessly worked to get grants for Allens Chapel Community Center, that she received a Community Advocate award for in 2007.
After spending some time single, she met Ray Holmes. They married Dec 15, 1965. He had no children of his own but lots of nieces and nephews. This is how Mabel inherited the title of "Aunt (Aint) Mabel". Ray passed away in 2000.
Mabel was baptized as a young adult and was a member of the Vineyard Grove Baptist Church and later the Honey Grove First Baptist Church
Mabel had four granddaughters: Robin and Doug Person, Leslie and Craig Bowser, Casey and Stephen Rapp and Kelly and Dustin Ford. Mrs. Holmes had 12 great-grandchildren: Blake, Mackenzie, Cade, Cameron, Landry, Mixon, Deacon, Lake, Harper, Creed, Peyton, and Dyson.
Although Mabel only had her one son, Larry, Northeast Texas is awash in beloved cousins, nieces, and nephews.
She was preceded in death by her parents, her husband Ray Holmes, and her daughter- in-law, Donna Kathryn Zumwalt Franklin.
Mabel was a wonderful wife, mother, grandmother, great-grandmother, and an honorary aunt to many. She was loved by all and never met a stranger. Her death has been felt across the community.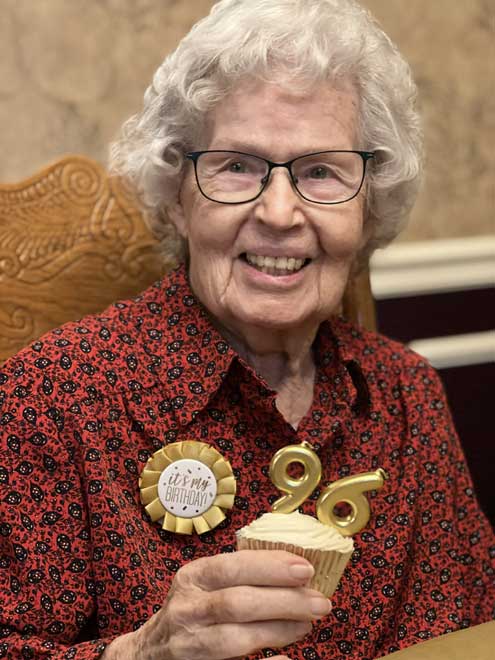 Services for Mrs. Holmes will be Monday, August 1, 2022, 10:00 a.m., at Cooper-Sorrells Funeral Home Chapel in Honey Grove, TX. Mr. Nolan Butler will preside. Visitation will be Sunday, July 31, 2022, at Cooper-Sorrells Funeral Home Chapel, from 6:00 to 7:00 p.m.
Serving as pallbearers will be her twelve great-grandchildren.
In lieu of flowers, please make donations to Allens Chapel Community Center
To convey condolences online please visit www.coopersorrells.com