Local News
Fannin County Electric's CEO speaks at National Utility Conference
Jul 8, 2022
Fannin County, Texas -- John Ed Shinpaugh, General Manager and Chief Executive Officer of Fannin County Electric Cooperative was a presenter at Cooperative Finance Cooperation's (CFC) annual Forum in Boston, Massachusetts on June 21, 2022.
Mr. Shinpaugh was one of two cooperative executives asked to lend their insight and expertise regarding the migration of large data centers and crypto mining companies seeking service from rural cooperatives. The presentations and follow-up panel discussions were entitled, "Crypto Mining and Mobile Loads–Opportunity or Risky Business?"
Shinpaugh is currently the GM and CEO of Fannin County Electric Cooperative, (FCEC) located in Bonham, Texas. FCEC is a $70 million-dollar, 12,000-meter electric distribution cooperative serving Fannin and parts of 4 other counties in Northeast Texas. He has been with FCEC since 2013.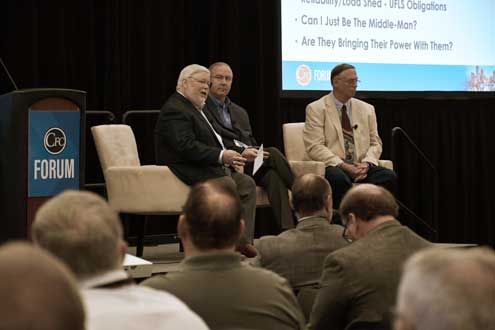 In addition, Shinpaugh serves as Chairman of the Communications and Member Services Committee for Texas Electric Cooperatives statewide association. He also serves as Vice Chairman of the board at Rayburn Electric Cooperative, a generation and transmission cooperative located in Rockwall, Texas.
Forum 2022 Boston is CFC's annual gathering to provide to over 2000 of its members, industry-leading meetings and educational opportunities from today's financial and utility industry thought leaders.
CFC, a member owned, cooperative bank with over $30 billion in assets provides credit and industry-leading financial products to America's 900-plus local, not-for-profit, consumer-owned electric cooperatives and rural utility systems.