Lifestyles
The Salvation Army welcomes new leaders in Grayson County
Jul 19, 2022
Sherman, Texas (June 28, 2022)—The Salvation Army in Grayson County is pleased to welcome new leaders, Lieutenants Michael & Amanda Cain. They officially assumed their position on Sunday, June 26 and are looking forward to getting to know the community and continuing the ministry of The Salvation Army.
Salvation Army Officers are transferred to different locations, typically every 3-4 years. The Cains are enthusiastic and dynamic leaders and come to Grayson County from Plano, where for the last three years they were responsible for the programs and services of The Salvation Army in that community.
Michael and Amanda Cain, Texan and Texan by heart, were commissioned and ordained as Salvation Army Officers (Pastors) in June 2019. They are first generation Salvationists on fire for God and the mission of The Salvation Army. They have four adult children with the youngest just graduating high school and about to start college. In their spare time they like to play pickleball and have even played in tournaments together. Walking their grand puppy every night after supper time is their daily enjoyment.
"It has already been exciting to meet the people of Grayson County and discover the opportunities for ministry here," said Lt. Michael. "We look forward to meeting the needs of this community and 'Doing The Most Good' alongside the staff, volunteers, and supporters of The Salvation Army."
The couple is responsible for all church programs and social services at The Salvation Army including the shelter, Family Store, food pantry, financial assistance, and weekly church service and activities.
"Many people don't realize that The Salvation Army is a church," said Lt. Amanda. "And we invite everyone to join us for Worship each Sunday at 11:00 a.m., at The Salvation Army, located at 5700 Texoma Parkway, here in Sherman. We look forward to meeting you soon!"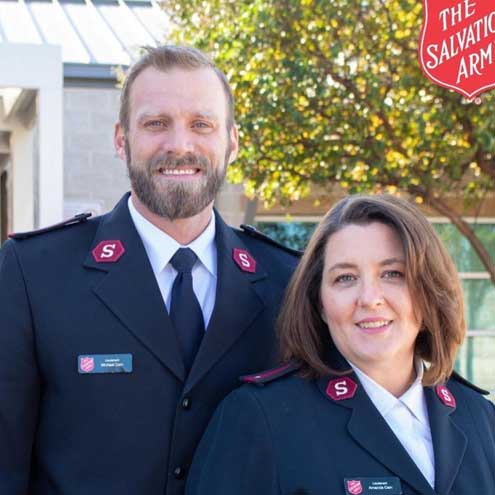 Michael & Amanda Cain
For more information about the programs and services available at The Salvation Army, or to make a donation, please call (903) 868-9602, or visit our website at www.salvationarmytexas.org.
About The Salvation Army
The Salvation Army annually helps nearly 23 million Americans overcome poverty, addiction, and economic hardships through a range of social services. By providing food for the hungry, emergency relief for disaster survivors, rehabilitation for those suffering from drug and alcohol abuse, and clothing and shelter for people in need, The Salvation Army is doing the most good at 7,600 centers of operation around the country. In the first-ever listing of "America's Favorite Charities" by The Chronicle of Philanthropy, The Salvation Army ranked as the country's largest privately funded, direct-service nonprofit. For more information, visit SalvationArmyUSA.org. Follow us on Twitter: @SalvationArmyUS and #DoingTheMostGood.