Local News
Largest federal employee union applauds Senate plan to block Closure Commission
Jun 29, 2022
Senate plan is a victory for all those who rely on the VA
Washington -- Today, the American Federation of Government Employees (AFGE), the largest government employee union representing Department of Veterans Affairs (VA) workers, applauded the announcement by the Senate Veterans' Affairs Committee that it would block the confirmation of the nine-member Asset and Infrastructure Review (AIR) Commission that would have considered closing and privatizing a large portion of the current VA health care system.
"Today's announcement by the Senate Veterans' Affairs Committee is a major victory for veterans, military families, the American health care system, VA employees, and all those who rely on the VA," said AFGE National President and U.S. Army Veteran Everett Kelley. "This closure commission was a bad idea from the start. Automatic, mass closures of VA facilities would deny veterans the comprehensive, quality care that our nation owes to those who have defended our country – an obligation first recognized by President Abraham Lincoln."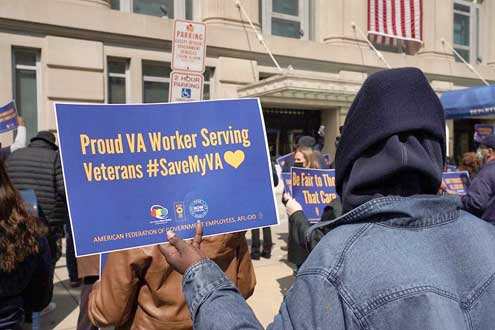 The AIR commission, created by the Asset and Infrastructure Review (AIR) Act of 2018, which was part of the MISSION Act, would have reviewed recommendations issued by the Secretary of Veterans Affairs in March to close or eliminate services at 60 VA hospitals and dozens of outpatient clinics, nursing homes and other VA health care facilities nationwide.
"The fight against privatizing VA health care is not over, but on behalf of the 283,000 VA employees AFGE represents – and the veterans they care for – I want to express our deep appreciation to Senate Veterans' Affairs Committee Chairman Jon Tester, as well as Senators Manchin, Rounds, Heinrich, Capito, Hassan, Brown, Thune, Murray, Daines, Luján, and Portman, for blocking the closure commission and the AIR assault to privatize VA health care," said AFGE National VA Council President Alma Lee. "This victory shows what's possible for working people when we stand together and fight as one union."
The committee's rejection of the AIR Commission nominees effectively blocks the automatic closures but does not end the law's general move toward privatizing health care for veterans. The law includes provisions for a similarly broad facilities review every four years, though without the automatic bulk closure process. VA Secretary Denis McDonough has said he will use that law to implement future changes in the VA's integrated health care system, the largest civilian medical system in the country with 1255 health care facilities, including 171 major VA hospitals, serving more than 9 million veterans nationwide.
"We thank the committee for listening to the voices of veterans and front-line workers who have been rallying for months against rubber stamping the VA's recommendations to close veteran hospitals and send our nation's heroes into the private sector where they will pay more for worse outcomes," Kelley continued. "AFGE stands ready to work with all those who are willing to take this opportunity to rethink our approach to modernizing and expanding care at the VA to ensure this world class health care system continues to deliver for veterans in communities across the nation for decades to come."
AFGE mobilized against the 2018 law even before Secretary McDonough issued his recommendations earlier this year. When VA's hit list became public, AFGE members held rallies at facilities across the country and worked closely with members of Congress, local and state elected officials, and veteran organizations opposing the closures.