Entertainment
On Stage at Allen Public Library June 30: Speaker Sam Rayburn
Jun 30, 2022
Thursday, June 30, at 7:30 p.m. in the Civic Auditorium
Allen, Texas -- Emma Trent, Program Coordinator at Sam Rayburn Museum in Bonham, and Stacie Flood, Stacie Flood, Assistant Site Manager at Sam Rayburn House State Historic Site, will be in the Civic Auditorium at Allen Public Library June 30, 2022, to discuss the life and legacy of longtime Speaker of the House Sam Rayburn.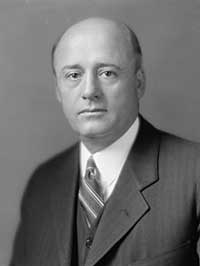 The shadow of Rayburn will forever hover over his beloved 4th Congressional District of Texas, a district the Democrat represented from 1913 to 1961.

A three-time House speaker, Rayburn holds the record for the longest tenure as Speaker of the United States House of Representatives, serving for a total of more than 17 years.

Rayburn was instrumental in the passage of New Deal legislation, including the Rural Electrification Act of 1936. With the help of his protégé, Senate Majority Leader Lyndon Johnson, Rayburn helped guide the Civil Rights Acts of 1957 and 1960 through Congress, the first civil rights acts passed since Reconstruction. He was an ardent supporter of an improved transportation system and played an important role in creating the U.S. Highway System, iconic Route 66 which he said would connect "the Frost Belt with the Sun Belt," and the advent of Farm-to-Market roads to benefit rural Americans.

Closer to home, Rayburn's brand is on Lake Texoma, State Hwy. 121 and Lake Lavon.

This program by Trent and Flood will be presented live, both in person and virtually, via https://allentx.swagit.com/live. No registration is required to attend. Admittance is first come, first served.