Local News
Texas communities combat motor vehicle crime
Jun 12, 2022
Texas fights back against motor vehicle burglary and theft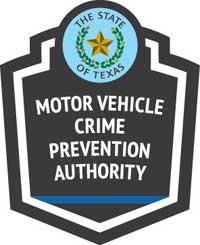 Austin, Texas (June 9, 2022) -- Great news, Texans! Help is on the way to communities to combat auto burglars and thieves. These communities will now have additional resources and tools to fight and prevent motor vehicle crime.

The Motor Vehicle Crime Prevention Authority (MVCPA) awarded almost $15 million in grants yesterday to police departments and sheriff's offices across Texas. The funds support full-time specialized auto theft taskforces.

MVCPA also issued a new grant to add about 200 Automatic License Plate Reader (ALPR) cameras to combat crime. Law enforcement can use these cameras to investigate motor vehicle theft and burglary as well as fraud-related crime like registration and title fraud.

Communities apply for these funds allocated by the Texas Legislature to improve local response to motor vehicle crime.

"MVCPA is grateful to the Texas Legislature to increase their support for local law enforcement to have this opportunity to better combat motor vehicle theft," said Laredo Assistant Chief of Police and MVCPA Board Chair Mike Rodriguez.

MVCPA awarded $13.6 million in Fiscal Year 2023 Taskforce grants to continue programs already operating if the communities. In Fiscal Year 2021, taskforces recovered over 11,000 stolen vehicles, cleared 16,000 motor vehicle theft cases, and arrested over 3,000 people.

Taskforce Grant Recipients
| | |
| --- | --- |
| City of Austin | City of Laredo |
| City of Beaumont (Regional) | Lubbock County (Regional) |
| City of Brownsville (Regional) | City of Mansfield (Regional) |
| Burnet County (Regional) | Montgomery County (Regional) |
| City of Corpus Christi | City of Paris (Regional) |
| City of Dallas | City of Pasadena |
| Dallas County (Regional) | Potter County (Regional) |
| City of Eagle Pass | City of San Antonio (Regional) |
| City of El Paso | Smith County (Regional) |
| Galveston County (Regional) | Tarrant County (Regional) |
| Harris County | Travis County (Regional) |
| City of Houston (Regional) | City of Victoria |
Motor Vehicle Crime Auxiliary Grant (MAG) recipients will receive funding to augment taskforce areas or expand to areas not currently served by taskforces. MAG grants allow communities to obtain ALPR cameras.
Dallas Police Lieutenant and MVCPA Board Member Julio Gonzalez said, "These grants increase the likelihood that car thieves will be caught sooner meaning that your stolen car is less likely to be used to commit other serious crimes such as human trafficking, robbery, and other violent crimes."
MAG Grant recipients
City of Aransas Pass
Goliad County
City of Port Aransas
City of Balcones Heights
Gonzales County
City of Red Oak
City of Buda
City of Grapevine
City of Richland Hills
City of Blue Mound (pending)
Gregg County
City of Robstown
City of Cedar Hill
City of La Porte
City of Rockport
Chambers County
City of League City
City of Seabrook
Cherokee County
City of Marshall
City of Schulenburg (pending)
City of Cibolo
City of Mesquite
City of Temple
City of Conroe
City of Midland
City of Texarkana
City of Decatur
City of Mission
City of Tomball
City of Diboll (pending)
City of Navasota
Waller County
City of Duncanville
City of Odessa
Webb County
Fannin County
City of Palmview
City of White Settlement
Fayette County
City of Pearland
Wilson County
City of Penitas
MVCPA also awarded a $350,000 Public Education and Awareness Grant to the Insurance Council of Texas to develop a motor vehicle crime prevention media campaign. The last time MVCPA issued this grant in 2019, the "If You Like It, Lock It!" (Si Te Gusta, Cierralo) program realized over $5 million in public service advertising on television, radio, billboards and other media.
The Texas Legislature established MVCPA in 1991 to combat motor vehicle theft, burglary, and fraud-related motor vehicle crime in Texas. This is the 29th year the authority has issued funding.
For more information about how to protect yourself from motor vehicle crime, visit MVCPA at www.TxDMV.gov/about-us/MVCPA.