Farm and Ranch
Flying C Ranch: A profile of determination and conservation
Jun 6, 2022
Whether from a bird's eye view high up in the blue skies of Texas or with feet planted firmly on the ground, Carla Payne is no stranger to taking care of the land she loves and the cattle that rely on that land—and on Payne for that matter. An innovator, groundbreaker, and risk taker, this female cattle producer, award-winning Longhorn rancher, and conservationist has been involved in the agribusiness in one way or another for more than 30 years.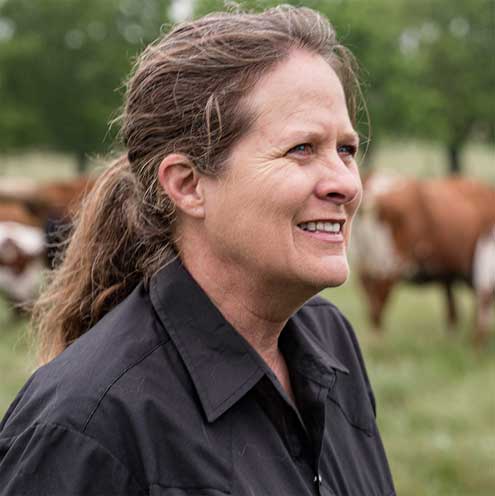 Carla Payne has worked with NRCS for over a decade to improve the natural resources on her ranch. She has implemented practices such as rotational grazing, livestock water development, cross fencing, cover crop plant and more.
"My favorite part about farming and ranching is that it's not an 8 to 5 job," says, Payne. "Every day is a new challenge."
Payne is no stranger to challenges.
Before turning to ranching, she was drawn to the sky and spent some time in the cockpit. She began flying at the early age of 16—driven by a passion that led her to become a licensed pilot in the agricultural aviation industry by 25. She and her husband, Air Force veteran and fellow pilot, Carl, owned Payne Flying service at that time, an agricultural aviation operation out of Katy, Texas. Together, they seeded, fertilized, and applied crop protection chemicals to area crops with the strong belief that agricultural aviation played a role in contributing food and fiber to improve people's quality of
life.
The Payne's also performed agricultural flying contract work for forestry efforts nationwide, including aerial firefighting in support of Texas Forest Service wildfire responses. Tragically, Carl died in 2000 in a plane crash while helping battle the Cook Branch wildfire in Fort Stockton, Texas.
Shortly after, Payne retired from that lifestyle and turned to her love of the Longhorn and ranching full-time. While it is not unusual for Payne to take life by the horns, it is unusual for someone to decide to start a ranch from the ground up without having inherited it from generations of family. However, that is exactly what she did.
"Instead of staying in the flying business, I knew enough about cattle and ranching that I decided I'd make a go at it," she says. She explains that she started showing Longhorns as far back as 1986 after receiving her first two as a wedding present.
In April 2002, Payne made the four-hour inland move from Katy to Slidell, Texas, just outside of Decatur. Along with some friends, she purchased the land now known as Flying C Ranch. Her friends, who are airline pilots, fly aerobatic planes over the farmland while she runs cattle on it.
Today, she not only runs the one-woman ranch that specializes in Longhorn, Wagyu, and stocker feeding cattle, but manages 122 acres of surrounding farmland on which she primarily grows wheat, using some of the acreage for grazing purposes. With some help from the USDA Natural Resources Conservation Service (NRCS), Payne works hard to make sure her land has a major focus on conservation.

Cultivating a conservation partnership
Payne loves what she does, and she puts passion and care into every decision she makes. It is no surprise then that she was willing and open to partner with NRCS for guidance and support to advance her goals for Flying C Ranch.
"At the beginning, when we were first new to each other it could feel kind of intimidating, but once you figure it out, it feels natural. You understand they're there to help you to make it the best possible," Payne recalls when first working with the NRCS.
These days, she works closely with the NRCS on everything from maintaining native, healthy grasses to rotating her cattle and keeping pastures healthy. Cattle rotation allows for better groundcover growth and improves the land for wildlife. Payne wants to see wildlife on her land, not just cattle, so she works closely with the NRCS to make sure her operation also is tailored to the health of local animals. This includes keeping her cattle out of certain pastures during part of the year so burrowing owls can safely nest without the threat of being trampled by her Longhorns.
"NRCS has been very beneficial to me. I'm so glad that I had a neighbor introduce me to my NRCS group. I can't say enough about using them as a service to help you. Especially if you are new in agriculture."
She credits the NRCS for helping with things like grass
seeding, planning, and building interior fencing and cross-fencing, building ponds, prescribed burning, and implementing a rotational grazing strategy
through its Environmental Quality Incentives Program (EQIP). EQIP provides agricultural producers and non-industrial forest managers with financial
resources and one-on-one help to plan and implement conservation practices.
"Don't be intimated because they're in a government office. They're there to help you. And they have the knowledge."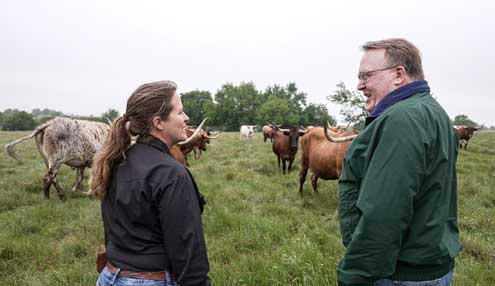 Carla has been working with NRCS District Conservationist Steven Ray for over a decade now. The pair's joint efforts in conservation planning have earned Carla's Flying C Ranch several land stewardship awards.
Denton County District Conservationist Steven Ray recalls meeting Payne in 2009 and writing a conservation plan with her in 2010.
"She's done quite an array of conservation practices on the ranch," he says. According to Ray, Payne's latest project involves devoting part of her cropland fields to grass planting, including pasture and hay land planting to improve the forage (or plant material) for her livestock.
Cattle calling
Payne has more than 50 head of registered Longhorns that are often used in shows, including 11 Longhorn bulls. She has about 75 head of angus cattle, used primarily as feed cattle that are not registered. Also in the mix are two Wagyu bulls, used to breed the stocker cattle. While the outdoors is filled with grazing cattle, her house is filled with trophies, plaques, and medals from many years of competitions and shows.
She explains the difference between running the commercial herd compared to the registered Longhorn herd comes down to sale vs. show. The commercial herd process tends to be more of a whole group effort. "At the end of the year, all the calves are shipped off except two or three or four that I might keep up here in my own lots to feed out for some personal customers," she says, whereas "the registered Longhorns are raised for show cows and we're breeding year-round." The latter process involves constantly checking cows, writing down birth dates, giving names, and deciding which ones will be bulls or steers, then promoting and trying to sell them to kids to compete with at
the shows.
Home on the range
"I want the best pastures for my cattle to graze on," says Payne.
Growing up in West Texas, she says that she saw way too many short pastures or overgrazed areas. "I wanted a place where I could have tall grasses and not run out of grass during our drought time while enjoying the wildlife that it brings in."
"It all coincides together. If you have a good passion for raising good cattle you need to be a good grass grower," she says.
Like her cattle, Payne's puts a lot of attention and work into the health of her range. By balancing her stocking grade and rotating her livestock, she has improved her plant health and productivity. Additional conservation practices like cross fencing, building a livestock water pond, and introducing prescribed burning all helped to facilitate rotational grazing.
NRCS Rangeland Specialist, Kevin Derzapf, has worked with Payne to assess the health of her range for several years, inventorying the forage eaten by grazing livestock. "Range health is directly related to animal health. You can see that when you look at Carla's cows—that they are in good health and good condition," he says.
"The more pastures we have the more rest we can provide," this according to Derzapf who says this is important because native grasses, which Payne has a lot of, need rest. They need to be properly grazed.
"With proper rotation, we can grow a little more grass, grow high quality, and have a lot of diversity on the pasture. This is important for the livestock and can reduce the needs for supplementary protein and hay which can reduce overall costs for the producer."
A community of conservation
When not working the ranch and researching new conservation practices, Payne stays active in the community and is a known leader on local boards. She takes time out of her busy life to speak at local, state, and national grazing land meetings and conventions. She also serves as a Co-Chair for the Coalition for Private Landowners.
"Carla's a great resource for anyone beginning in agriculture," says Ray, who explains that they routinely refer people to Payne for advice and guidance.
As thankful as she says she is to have NRCS's support, the conservation agency, too, expresses its appreciation for Payne's contribution to getting the word out about the difference one person can make.
"Carla's been good to work with. She is always seeking out opportunities to help and spread the word about conservation," confirms Derzapf.
Not only has NRCS held field days on her property, but Payne has hosted many of her own—not just to talk about her successes—but to help others learn from any mistakes she has made along the way.
"My passion for the conservation practices that we do out here is the same reason I'm as passionate about raising the best Longhorn show animal I can or the best Wagyu calf I can for beef," says Payne. "To me, I like my place to be a showcase as much as my cattle are."