Local News
Wesley Partners Senior Living looks to continue great service and care at Woodmoore Assisted Living
Jun 27, 2022
Bonham, Texas -- On June 1, 2022 Wesley Partners Senior Living acquired the Woodmoore Assisted Living and Woodmoore Village in Bonham, Texas. As with many acquisitions the expectation is to prepare for change, however, in this instance the biggest change may be only in name. According to Wesley Partners management, they hope the biggest change residents and their families will notice is the name change of the community to Wesley House.
"We were excited to find that the level of service and care that the Woodmoore staff has been providing appears to be top notch. You can feel the positive energy and happiness in the building when you visit with residents and staff. As the old saying goes, "if it ain't broke…" and our intention is to continue with what has been working and provide additional support to the staff where we can to keep resident care at a high level so resident's continue to enjoy the community."
Part of the support that Wesley Partners brings to the table is the commitment to finish out Phases 2 and 3 of the independent living community in addition to a new memory care wing that will be added on the back side of the assisted living community. According to Wesley Partners, their goal is to get started on Phase 2 and 3 of the independent living community before the end of June and they have already begun designing the plans for the memory care addition and hope to break ground on that addition before year end.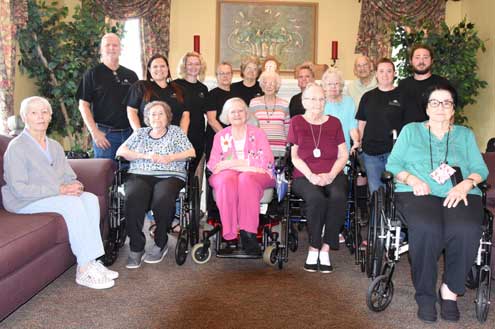 Some of the staff and residents of Wesley Partners Senior Living in Bonham
Wesley Partners Senior Living is a locally owned family business located in Mt. Vernon, Texas and currently owns and operates 8 senior living communities in and around East Texas.
"We pride ourselves on putting our residents first and focusing on doing what's best for them. Being a small family-owned company allows us to operate without all of the unnecessary layers of management which we believe allows us to serve our residents better. We look forward to continuing the success with the Wesley House in Bonham and supporting the great staff we have inherited."
For more information about Wesley Partners Senior Living, please visit their website at
www.wesleyseniorliving.com.