Religion
Bonham residents gather to pray after tragedy in Uvalde
May 28, 2022
Bonham, Texas -- Outside of the Lone Star State, few people had ever heard of Uvalde, Texas until May 24, 2022. But they know now, and for the worst possible reason.
In a state where you can't legally buy a beer or a pack of cigarettes until you are 21 years old, 18-year-old Salvador Ramos was apparently able to legally purchase two AR-15 style assault rifles - one from a local gun store and one from an online gun dealer in Georgia - along with 375 rounds of 5.56 ammunition that he used to murder 19 elementary-school students and two teachers on May 24 at Robb Elementary School in Uvalde.
Under current federal and state law, none of the purchases by Ramos raised any red flags and he had no prior police record or documented history of mental illness.
In addition to the 21 fatalities, at least 17 people were wounded.
Before arriving at Robb Elementary School, Ramos had already shot his grandmother in the face, although she survived.
It marked the deadliest school shooting in Texas history and the third deadliest school shooting in the US. In 2007, 32 lives were cut short in the Virginia Tech shooting and 26 people were killed in the Sandy Hook Elementary School shooting in 2012.
On Wednesday, May 25, as people in Buffalo, New York were burying 10 victims of the mass murder on May 14, and folks in Uvalde were preparing to pay their last respects to 19 elementary students and two teachers, residents of Bonham gathered to pray for a nation that experiences horrific scenes of violence at a rate that far surpasses other civilized countries.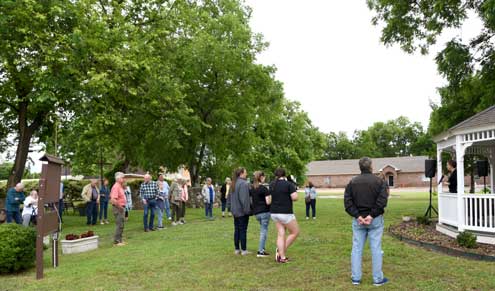 Bonham area residents gathered in the Common Ground Prayer Garden on Wednesday to pray for our children, our schools, our state, and our nation in response to the tragic elementary school shooting in Uvalde, Texas.
Burdened with a dysfunctional political climate that reflects a starkly polarized populace, people turned to a Higher Power to lay down those burdens. For the folks in Bonham, that meant gathering in the community's Common Ground Prayer Garden.
Several denominations were represented.
"I see some people that I don't know," remarked Lisa Reece, pastor of First Presbyterian Church in Bonham, before she read from Psalm 86. "That means God is bringing us together in unity."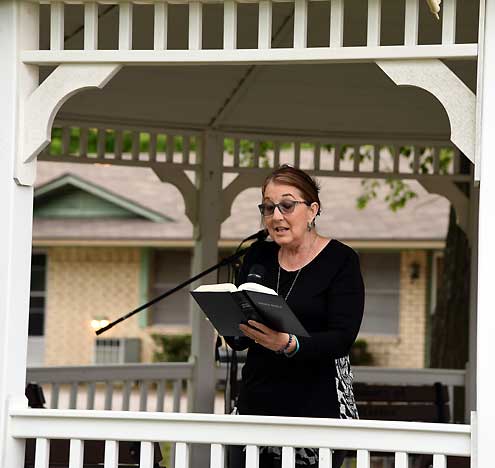 Lisa Reece, pastor of First Presbyterian Church in Bonham, reads from Psalm 86.
Some offered prayers, others led songs of worship and one mother took a moment to put into words the tremendous love a mother has for her children.
Michael Evans, pastor of First United Methodist Church in Windom, reminded the crowd that, as families gather to celebrate graduations, 19 families of second, third and fourth graders in Uvalde will never get to see their loved ones walk across the stage in a cap and gown.