Entertainment
Rededication week at 1888 Fannin County Courthouse
Mar 9, 2022
Fannin County, Texas -- In a few short days, the 1888 Fannin County Courthouse will be rededicated and given back to the citizens of Fannin County. As I sit here looking back it doesnít seem real. 3 Ĺ years of working on this and it is hard to put into words what it means. Itís been close to 200 meetings, well over 3,000 emails, if I had to put a number probably well over 20,000 pictures. The Courthouse restoration team has been made up of Turner Construction (Ben, Tony, Linda, and Angel onsite), Architexas (Anne and David), THC (James) and the County (Judge Moore, Commissioner Lackey, Sherry, Michelle and myself).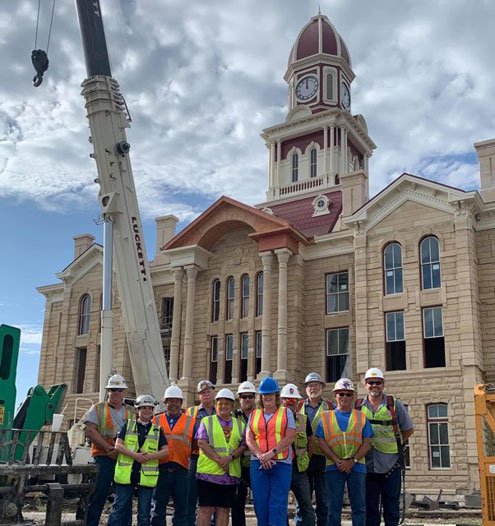 This team over the last 3 Ĺ years has had headaches, sleepless nights and more arguments than anyone could imagine. We have seen babies and grandchildren born. Some of us have gone from having our hair colored every 10-12 weeks to every 6 weeks while some have lost some of their hair. We have dealt with all of the good as well as the bad.
The first phase was the selective demolition. Upon completion of the selective demolition it was time to solicit bids for the second phase, the actual restoration. Now this was done in 2018 under a different County Judge and Commissionersí Court. Many might recall that when bids were solicited only one was received and the price on that one was over $27 million dollars. The decision was made by the sitting court to throw out that bid and start over. The decision was then made by the court to solicit an RFP for a CMA (Construction Manager Agent). The last two months of 2018 was fast and furious. The sitting County Judge wanted a contract in place for a CMA before he left office. In December, one of the last things accomplished for the Judge was a contract for the CMA which was Turner Construction.
January 2019 started with a new County Judge and one new County Commissioner. This was also the start of the second phase, the actual restoration. However, it started with hurdles; we needed to know exactly what the cost was going to be. The prior court had a number of what they believed the courthouse was going to cost and that is what was put on a ballot for the citizens to vote on. The $27 million that had been received the previous fall was not what anyone thought or voted for. So, the very first thing for Turner to do was to get the County a true cost of what the restoration phase was going to cost.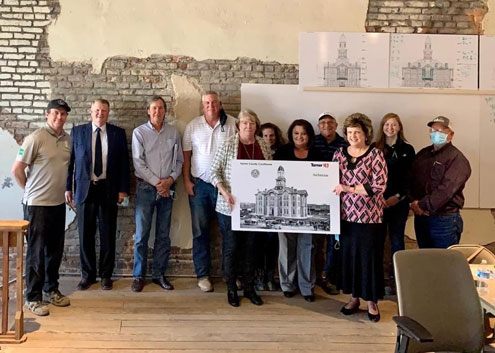 By February 2019 Turner had the County a detailed cost and it was almost identical to the one and only bid we had received the previous fall. To be honest, we were at a loss. The citizens had voted to restore this courthouse and they had voted to do it at a certain dollar amount and $27 million was not that amount. What were we to do?
2019 was a year that it appeared that not much was being done to the Courthouse. The citizens saw the black mastic coming off the Courthouse but saw very little else. There were things being done on the inside but to be honest not what should have been done. The County and Turner were in the middle of completing value engineering to see what could be done differently to bring the cost down to what the citizens had approved of and still give them the Courthouse they wanted.
While this was taking place the County was also researching every grant possibility out there in the hopes of obtaining additional funds. To our dismay there just wasnít any other grants that we could obtain for our Courthouse. At this time a decision had to be made. Do what could be done with the money that was approved then stop and leave the Courthouse unfinished and unoccupied behind a fence or obtain additional funding through Certificates of Obligation.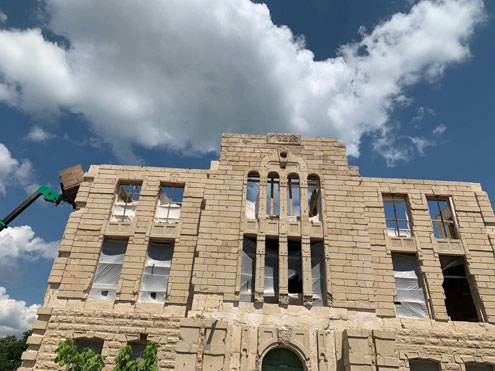 It felt like a no win situation regardless of what was decided. We were being confronted by upset citizens from all directions. I remember one standing in my office telling me that getting additional debt was bailing out the Commissioners. I didnít see it as that. This was bigger than the Commissioners. The taxpayers were already committed to over $12.5 million dollars to repay regardless of what was done. They were also paying over $120,000 a year to house County employees that had once been in the Courthouse. The taxpayers, I believed, deserved to have a completed Courthouse.
Should the Court have had a more accurate cost before going to the citizens, yes, but what happened couldnít be changed. All we could do was move forward and complete this project despite the obstacles in our way.
Thinking back on 2019, after we obtained the additional funding needed to complete, we thought it was going to be easier. That definitely wasnít the case. Enter 2020, the year of the Covid pandemic and even more obstacles.
I wish I could say that all of the decisions that were made were the right ones but everyone knows that isnít the case. The stone work on this courthouse was a massive scope of work. During the bid process we received several submittals. There was one that really stood out that Turner as well as a few of us on the Courthouse team wanted but that wasnít what was decided on. I donít believe it is a secret to anyone that we struggled with this contractor and delays occurred because of it.
As if that wasnít enough, there was Covid. Covid was something that no one had dealt with before. Not only was it causing issues with County employees it was also causing issues with contractors and vendors. We had vendors shutting down because a lot of the supplies were coming from up north or from out of the country and as we remember the northern part of the country basically shut down sooner and longer than we did around here. I felt like we just couldnít catch a break.
During this time we continued to push forward. We continued to have issues with the masons. Sometimes it felt like we were taking two steps forward and three steps back. Despite the issues, the Courthouse was starting to show her former glory. Windows were going in, the roof was going up and then on August 20, 2021, the day we had talked about and just couldnít imagine was happening. The cupola was going up.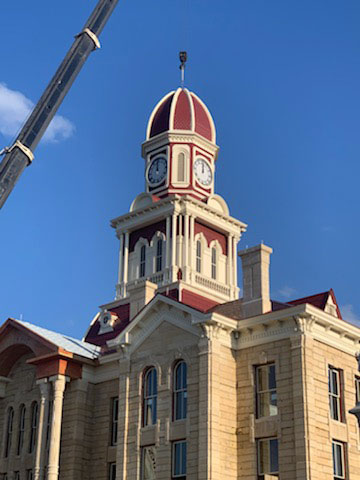 Sherry (Assistant Auditor) and I were at our office before 6:00 that morning. We had to get a few things done before we headed to the courthouse. We would be there on the grounds all day for this. We got to the Turner office and it was alive with activity. All hands were on deck.
The ďSteepleĒ guys from Campbellsville, Kentucky had been assembling the cupola on the Courthouse grounds all week and on that very warm August day it was going to be flown to the top of the Courthouse in all her glory. Even that came with a few hurdles. However, about 6:45 on that warm beautiful Friday evening the last big piece was set atop this beautiful Courthouse as sirens were going off. As Sherry and I stood there it was all both of us could do not to cry. Every meeting, every argument, every sleepless night worrying about everything, at that moment was gone. Words canít explain how we felt.
However, there was still that final piece that had to go up. TheĒSpireĒ. This was to be flown up on Saturday morning and yes, Sherry and I were there at 7:45 that morning to watch it happen.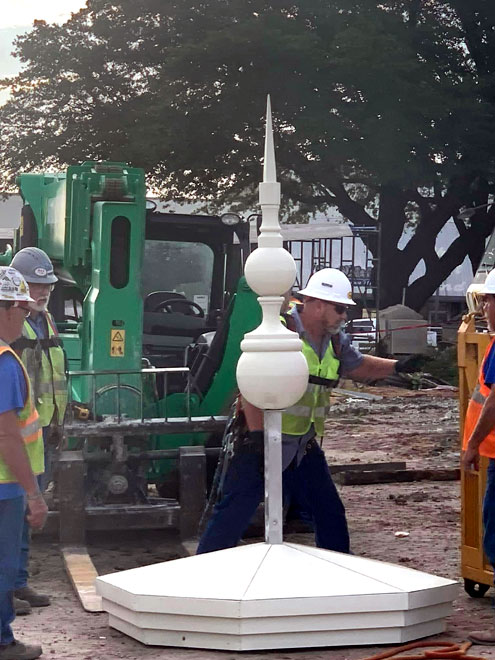 Now, you would have thought that once the cupola was on everything else would just fall into place. Not even close. It has seemed like the closer we get to having it completed the more obstacles we have encountered. Covid was still causing havoc. We were still having issues getting all of the materials that were needed. As the completion is getting closer, the thinner all of our nerves are. Yet, here we are. She is just about completed.
A couple of weeks ago after our weekly meeting and our walk, several of us (Tony, Anne, David, Sherry and myself) were standing outside in front of the James Butler Bonham statue observing the benches being installed. We were all looking at what most just see as a Courthouse, a building. We talked about the last few years and as Anne stated, this wasnít just another project for her. She was leaving a piece of her in this beauty.
She is so right.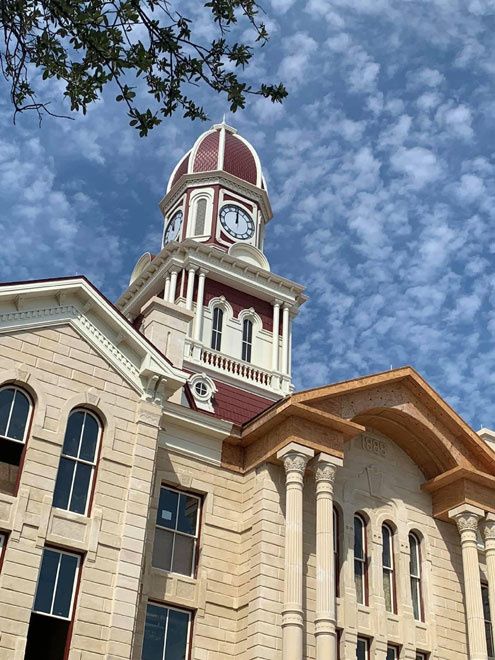 Those of us involved in this for the last few years have left a piece of ourselves with her. I personally have learned more about construction and restoration than I ever in my life thought I would. I have had to face my fear of heights and climb ladders to get to the floors when we didnít have any stairs. We have had to almost get down on knees to get through the basement. We have stood on the third floor with no windows and no roof with wind blowing in a shell. There isnít any part of her where we havenít been.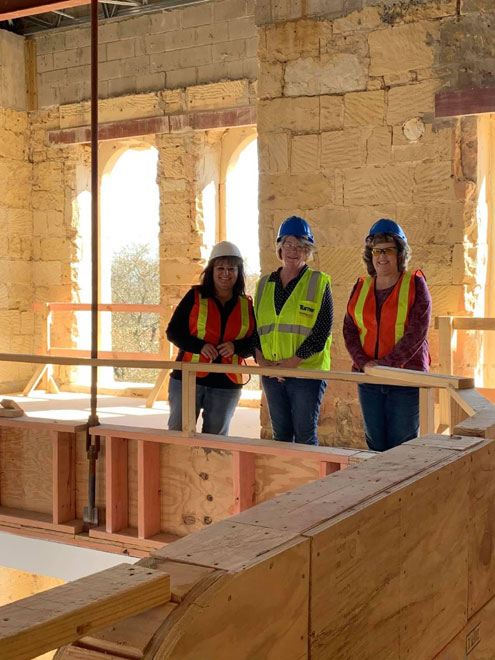 There have been moments when Sherry and I have gone in and have almost been brought to tears. I wish I could put into words what it was like the first time we saw the windows trimmed out and stained. Or standing on the balcony looking down on the second floor. I know many have lived this project with us through pictures but I donít think the pictures have done this lady justice. We have had the honor of working with some pretty awesome contractors that have probably cringed more than once when they saw us crossing the street in our hard hats.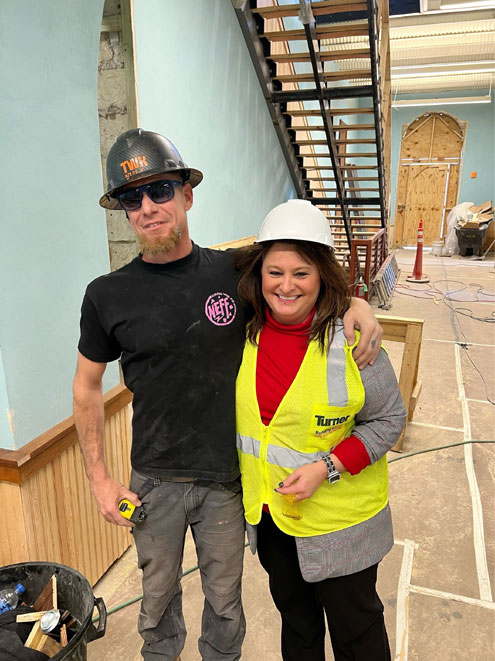 They too have left a part of themselves in this courthouse. They have worked tirelessly to bring this grand lady back. We have had our moment in time with all of them, experienced something that I canít really put into words. This beautiful lady will always have a piece of our hearts.