Entertainment
The man behind the Fannin County Courthouse
Mar 2, 2022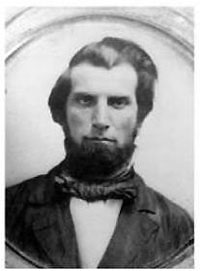 Fannin County, Texas -- Wesley Clark Dodson, the pioneer architect of the Fannin County Courthouse, is considered one of the most important architects of Texas' "Golden Age of Courthouse Construction." In the period 1875-1902, he built fifteen magnificent Texas courthouses.

In 1876, shortly after he built his first courthouse in McLennan County, Dodson received the following endorsement from the Waco Daily Examiner: "Mr. Dodson is one of the best architects in the South. He is thoroughly competent and better still thoroughly honest. Any one desiring his professional services, or having business with him of any nature, whatever, may take the EXAMINER'S word for it, that he will act fairly, honestly and promptly in anything he undertakes to do."

Wesley wrote his memoirs when he was in his eighties, and his daughter and granddaughter saw to it that his letters were preserved. His writings reveal a man of principle, later praised as "a man of the highest integrity and the sincerest purposes." He was a civic minded man, who felt an obligation to participate in and better his community. He was a patriot, who willingly fought, like his father and grandfathers before him, to maintain what he saw as the freedom and rights of his homeland. He was a Romantic, who adored all that was beautiful in nature, and was not afraid to express his feelings, particularly his love for his family to whom he was generous and charitable in his support of them all. He was an educated and cultured man, who studied the Bible and enjoyed the English classics and the literature and poetry of the Romantic Age. Wesley lived a simple life and could not abide pretense of any kind. Although he never fully recovered from injuries incurred during the Civil War, he bore his suffering without complaint. Despite his many misfortunes, he always praised God for blessing him and keeping him safe.

Wesley was the son, grandson, and great grandson of ministers. He believed God had repeatedly saved him from adversity because He had a purpose for him. What purpose it was he did not know, but he was resolved to live his life being useful to his family, his community, and his country. Through his father, a Methodist circuit-rider who was friends with all the religious and political leaders of Tennessee, including Andrew Jackson and James K. Polk, Wesley developed a lively interest in civic affairs. Most of his education was at home, then with his uncle at what was called an "Old Field School." His family lived a self-sufficient middle-class life in rural Tennessee. His idyllic childhood ended abruptly with his father's sudden death when Wesley was thirteen. His mother was forced to sell their farm in Tennessee and move the family to Gainesville, Alabama to live with relatives.

After a year in an Alabama public high school, Wesley apprenticed himself to an architect for five years. There he gained the skills needed to become what was then called a Master Carpenter, both designing and constructing buildings. For ten years he lived in Livingston, Alabama, where he designed and built a number of homes and stores. He participated in public affairs serving as an alderman and as a ruling elder in his church. He married Sarah Moffitt, a college educated young woman who taught English and was assistant to the principal at the Female Normal School in Livingston. Together they had four children, two of whom survived to adulthood. Wesley's happy life in Livingston ended abruptly with the outbreak of the Civil War.

The war forced Wesley to abandon his career in architecture and join a company of soldiers that was organizing in Sumter County. He never spelled out his reasons for enlisting. Clearly, he had no interest in protecting slavery or what he called the "gentlemanly loafing class" of slaveholders who regarded people such as carpenters, wagon makers and blacksmiths as "Poor White Trash," people who did "servile and degrading" manual labor. Given his gentle temperament, it is unlikely he was caught up in the thrill of going into battle to drive out the Yankees. More likely he believed that the Southern states had the right to secede from the Union that had come to be dominated by the Northern states. Even if he had opposed secession, he would have fought to protect his home and community from the invading Federal forces. His sense of honor and duty, the same duty that required him to protect his mother and his sisters, led him to protect his homeland and, once in the military, to support his comrades in battle.

The war was not kind to Wesley. He fought with Company C, 40th Alabama Regiment, in a number of significant Civil War battles. He returned home crippled, having been shot in the hip and leg at Resaca, as his company attempted to keep Gen. William Tecumseh Sherman from reaching and burning Atlanta. He dragged one leg the rest of his life and suffered from rheumatism brought on by the wounds. From the noise of battle, he lost his hearing in one ear. Since Wesley had been a Confederate officer, the occupying military forces barred him from practicing architecture in the state of Alabama. When he was finally strong enough to look for work, he could find nothing. Even had he been allowed to design, no one was building. The war left the South totally devastated and the economy in shambles. All around him people went bankrupt and lost their farms and any savings. Wesley and Sarah decided that since all they had was lost, their best hope for future happiness lay in leaving Alabama and starting over in Texas.

When they arrived in Texas in 1866, the state was under Reconstruction Era military rule, with a depressed economy, rampant lawlessness, and lacking the usual social constraints that held society together. They searched for a place with a "good society," where they could raise their children properly. That required an area without lawlessness and disorder, where homes were not regularly broken into at night, where drunkards, prostitutes and gamblers were not visible on the streets, where children obeyed their parents and their parents obeyed the law. Sarah never found that "good society" in Texas. A severe winter in a drafty boarding house in Bryan led to her death from pneumonia. Wesley persevered, eventually remarrying and starting another family. In 1876, when he won the contract to design the McLennan County Courthouse, he took his family to Waco, which he was pleased to find had the schools, the churches and the respectable society that he sought.

In the 1880s, Wesley took a leading role in the effort of Texas architects to get their work recognized as a profession rather than a trade. He was a founding member of the Texas State Association of Architects and was elected President of the association in 1888 and reelected in 1889. Under his leadership, the association lobbied the state to pass a licensing law that would ensure high standards of professionalism and integrity in the practice of architecture. He also sought a state school of architecture, arguing that such a school was needed as much as schools of law or medicine, which the state already supported. Dodson had seen enough shoddy construction, particularly in counties where he was asked to replace crumbling and unsafe courthouses, to know that the people of Texas needed protection from incompetent and unscrupulous builders. In 1889, he became a Fellow of the American Institute of Architects where he continued to work to help architects gain status as a profession respected for their skill in erecting tasteful dwellings and beautiful, functional, and safe public buildings.

Over the course of his career, Wesley built fifteen courthouses, four school buildings, four churches and six jails. Throughout that time, Wesley remained committed to bringing order and civilization to Texas. In towns that had frame buildings, board sidewalks, and dirt streets crowded with horses and wagons, he built Second Empire Cathedrals of Justice from stone or brick with tall bell towers and ornate architectural details that gave the imposing structures character. He was building civic pride. Years later, a writer for Harper's Magazine characterized one of Wesley's courthouses as "a gem of its kind" that "rises above the town like a cathedral in a town in France." Today eleven of his surviving public buildings are on the National Register of Historic Places, testifying to the importance of his work. The newly restored Fannin County Courthouse should be the twelfth.