Entertainment
'We do these things, not because they are easy...'
Mar 28, 2022
Fannin County, Texas -- Esteemed architect Wesley Clark Dodson was certainly a busy man from 1883 until 1898. During that 15-year period now referred to as the "Golden Age of Courthouse Construction," the partially crippled Civil War veteran designed 15 Texas courthouses, including McLennan County (1876) Houston County (1883), Johnson County (1883), Lampasas County (1883), Hunt County (1885), Anderson County (1885), Parker County (1886), Wichita County (1886), Kaufman County (1887), Fannin County (1888), Hill County (1890), Hood County (1890), Denton County (1896) and Coryell County (1898).
At the time Fannin County voters decided to restore their courthouse in 2016, two of Dodson's courthouses had been destroyed by fire, five had been demolished and six existed as originally designed. There was only one of Dodson's historic courthouses still standing that had fallen into disrepair - the Fannin County Courthouse. However, a drive through Bonham will certainly prove that is no longer the case.
During a period of unprecedented difficulty, topped by the myriad of challenges presented by a global pandemic, Fannin County managed to complete the most complex and costly project in county history.
To paraphrase John F. Kennedy, "We do these things, not because they are easy, but because they are hard, because that goal will serve to organize and measure the best of our energies and skills, because that challenge is one that we are willing to accept, one we are unwilling to postpone, and one which we intend to win."
The biggest challenge in the county's history began with a vision of what lay hidden for half a century beneath a layer of lueders stone and a presentation to Fannin County Commissioners Court in 2007 by Barbara McCutcheon and the late Tom Scott.
"We want to restore the grandeur and go back to the 1888 courthouse," Ms. McCutcheon told commissioners as Mr. Scott displayed a photograph of the historic structure. "Red River County did it. Lamar County and Hopkins County restored their courthouses. We can do it, too."
And that's exactly what Fannin County did.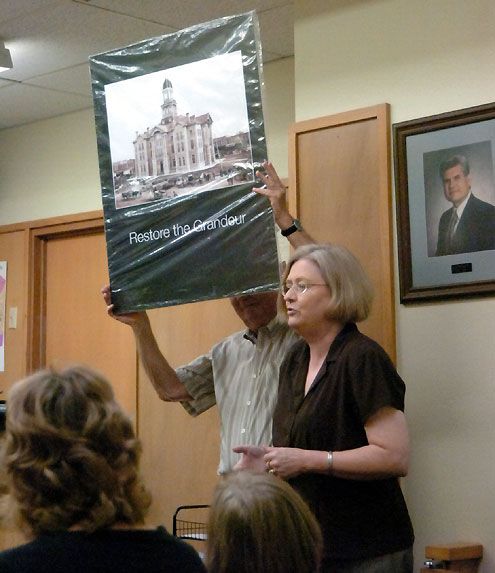 The late Tom Scott holds a photograph of the 1888 Fannin County Courthouse as Barbara McCutcheon addresses the Fannin County Commissioners Court in 2007. photo by Allen Rich
The names and faces changed through the years, but not the vision, commitment and perseverance it required, because nothing about this project came easy. In the end, Fannin County will have a working 1888 courthouse that will house Fannin County Court At Law and the Justice of the Peace Court in the first-floor courtroom. Fannin County Commissioners Court, the chief administrative board of the county, will convene in the balcony courtroom. Other county officials with offices in the 1888 Fannin County Courthouse include the county judge, auditor, treasurer, purchasing agent, county court at law administration and clerks, probate clerks and Justice of the Peace clerks.
Work crews continue to put the finishing touches on the courthouse, with most offices expected to be open in the towering temple of justice by mid-April.
The rededication ceremony at 10:00 a.m. March 10, 2022, will attract a host of dignitaries from Texas Historical Commission; the Texas Historic Courthouse Preservation Program contributed approximately $6 million to restore the grandeur of Wesley Clark Dodson's design. Mr. Dodson's great-granddaughter, Mary Helen Dodson will attend. The great-great granddaughter of the man who founded Bonham in 1837, Bailey Inglish, is expected to be in the crowd.
As the crowd gathers March 10, a bit of wisdom imparted by the late Jim Lovett, a noted historian and longtime 6th District Judge, seems most appropriate.
"That courthouse was a magnificent gift from your ancestors," Judge Lovett remarked. "What better tribute could you pay them than to preserve it."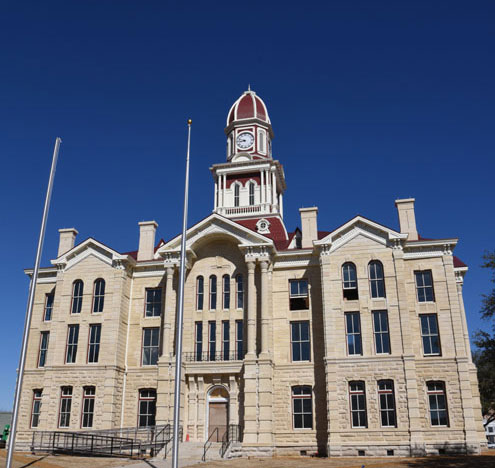 1888 Fannin County Courthouse